Literacy
Building a Better Word Wall
Transferring ownership of the class word wall to the students can increase their engagement and learning.
It was raining again. My second-grade students were indoors for recess and enjoying free time when a student approached me and asked, "How do I spell because?" I responded, "That's a tricky one—have you checked the word wall?"
The student answered with a familiar tune, "Oh yeah! I forget about the wall sometimes, it's so high up." She waltzed over to the word wall and craned her neck to find the word because written at the top of the wall, in my handwriting.
A few moments later, "Mrs. Bruyère?" I looked up to see another student. He paused, then said, "T, e, n, i, s, e, e—how do I spell Tennessee again?"
For 13 years I fiddled with word wall systems, hoping to uncover one that worked for the learners in my class. When the word wall works, the classroom begins to move more fluidly, so it has always seemed worth the effort to improve it.
Taking Action
On a Monday morning soon after that rainy day, I called a class meeting to ask my students for their ideas on how to improve the word wall. A funny and bright student spoke first, "I sort of forget the wall is there most of the time." No one disagreed. Another student chimed in, "The wall doesn't have the words I need on it. I know how to spell all—OK, most—of those words already, but the words I need aren't there."
Another problem was placement. It was too high—in fact it was hard for some students to see the entire top row of words clearly.
My students shared many ideas during our class meeting that day. Eventually, they selected a section of wall for our words—a section that was accessible to them—and we affixed laminated sheets of white paper to the wall, one for each letter of the alphabet.
A 5-Step Process for Improving the Word Wall
1. Finding the right location: I started by asking my students to find the most accessible place in the room for a student-created word wall.
2. Establishing rules together: I asked my students how the wall should function. For example, would they like to draw pictures or tape pictures next to the words? My students decided not to use pictures, but many classes would make the opposite call.
How do students want to manage the wall? And who will write words on the wall—the teacher or the students? My students decided that they would be the ones to add words to the wall. First a student writes a "striving to spell" word on a recipe card, and a friend checks it. I complete an additional check to guide and nurture in-the-moment phonics and feature learning. This nurturing takes on different forms with each child. In one case, it might be stretching the child to notice digraphs or diphthongs, and in another instance it may look like asking a students to explain what they know about the sounds in the words son, done, and tone.
Once those steps are complete, the student who came up with the word records it on the word wall.
Do students want to use certain colors for certain types of words? Color-coding can be a very helpful clue, and my students decided that on their wall, Dolch or grade-level words would be written in blue, nouns in pink, action verbs in green, and adjectives in orange.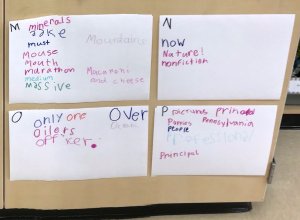 Courtesy of Justine Marie Bruyère
The word wall managed by students in the author's classroom
3. Igniting real conversations and connections to words: Try asking questions or offering tips. A few suggestions:
"Do you think that would be a good word to add to our word wall?"
"I wonder if we can make a list of words that would fit into this word family?"
"This week, I noticed that 'irr' makes the 'er' sound in squirrel. What new word surprised you this week?"
"If you need help with the word different, that's Kyle's word. He has offered to share his method!"
"What other words have a sneaky first letter?"
4. Conferring with students to heighten learning: Occasionally, students will spell a word on the word wall incorrectly. For these cases, I use one-to-one teacher time to do a quick activity, make reference to a text, or play a comparison game to draw the student's attention to common misspellings and the correct spelling of the word.
5. Celebrating the words: During share time, I encourage students to view the wall and share a reflection about a word that they added, used, or better understand now because it's on the wall. During this time, I also promote and support new additions to the wall.
After a few weeks of using our revamped word wall, a student asked how to spell Tennessee. The boy who had asked me originally jumped up and said, "That's my word!" He hopped over to his word and ran his finger along the letters, while explaining his method for remembering to add two S's.
What was the most important aspect of changing the wall? You might think it was spelling-related, but it wasn't. The most important aspect of the new word wall was that it was not created by me for them. This wall was created with their hands and held their words, and it provided evidence of their learning.