Administration & Leadership
Approaching Student Data Holistically
A whole-child approach to student data can help educators revamp instructional planning and teaching practices.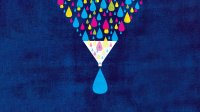 Data: a small word with tremendous impact. It's at the heart of school improvement—from anecdotal classroom observations and grade-level data chats to parent voice surveys, report cards, and external assessments, data guides our thinking and motivates our behavior. And while some embrace the work of data collection, others find it intimidating, if not downright overwhelming.
As you prepare this year to engage with your school's data, consider first framing the work around these questions with your grade level, team, or school:
Why is data being collected? What area of school improvement will it benefit?
What baseline data exists around the impacted area/areas; are there discernible, historical trends?
What types of data are being collected, and how will it be collected and monitored?
In what ways will it be used to shape philosophy, purpose, and practice?
What are the desired states of growth around student performance, teacher planning and practice, leadership initiatives, and any needed school reforms on policies and/or procedures?
During a leadership meeting with my team on data analysis, Dr. Sarah Sirgo, now chief of staff for Frederick County Public Schools in Maryland, described the fundamental work of data planning in this way: "A data monitoring plan is a way of formally committing to where and when and with whom you will review data—teams, teachers, leaders should analyze (what the data says), interpret (what the data means) and connect the data to planning, instructional delivery, and equity work; leaders should plan for how each member of the team will hold one another accountable for a consistent review and discussion of the state of this work."
Word on the street
When you're working with intention, you strategically consider the issue before you, the evidence-based decisions you'll make with your team(s), authentic analysis around the efficacy of those actions, and the impact of the moves you've made. None of this exists in a vacuum, and while data shapes school improvement, it's not just relegated to statistics, percentages, and Lexile levels.
When we talk about data, we're talking about children, and it's critical in the school improvement work of today to ensure that you view your data—your children—with a trauma-responsive and anti-bias, anti-racist lens; that you're committed to uncovering the whole child in terms of their origins, how they experience their school life, and extensive mitigating factors (e.g., home life) and how they impact their academic and social and emotional existence.
When you engage in a holistic approach to data collection and monitoring, it's critical to the success of this work to make sure that staff feel that they're prepared to examine personal biases, to goal-set, to be that street-level data detective, to design relevant interventions and supports, and to monitor that work long-term. Administration must front-load this work with adequate time, training and resources, effective feedback, and consistent support.
Shane Safir and Jamila Dugan's seminal Street Data: A Next-Generation Model for Equity, Pedagogy, and School Transformation states, "Street data offers a new grammar for educational equity; it humanizes the process of gathering data. Rather than positioning students and teachers as objects whose value can be quantified, street data teaches us to engage with people as subjects and agents in an ever-shifting landscape—human beings whose experiences are worthy of careful study and deep listening."
Here are five ways to approach exploring street data with a student:
Obtain their consent, and secure a sub or coverage in order to shadow your student for portions of their day.
Collect student work, artifacts that are truly representative of how they engage in school—the tangible evidence of their efforts, growth, and struggles.
Establish time and space with families to hear their stories, to learn about their origins, and become aware of the impact of this information on their child; a home visit, community event, PTA meeting, and Zoom or Google Meet are some options.
Conduct an audit of the child's strengths and areas of growth; create a root cause analysis of their academic needs, as well as feedback from the student, family, and school staff around reasons those issues may exist.
Collect voice data from at least four to five sources (e.g., student, parent/caregiver, classroom teacher/specials teacher/administration/previous teacher).
The business of school is everywhere, piling up as school bells move us beyond the pandemic; what gets monitored gets done. So what will you monitor in your intentional personal and team planning that you can revise to embrace the above questions and strategies in the next month? Which colleagues or cohorts can support you in this work? Are you able to reconsider a move from testing-centered to student-centered awareness and analysis? 
When you move with the entire life of a child at the forefront of the planning, the work distills the sterile need for numbers and instead prioritizes a face, a life, and the story of who we are called to serve.