School Culture
6 Strategies for Building Better Student Relationships
A teacher shares her best practices for establishing strong relationships with her class at the start of the school year.
One day, Alyssa, an eighth-grade student, came to our middle school wearing a purple bandanna as a headband, even though she knew that our school's dress code does not allow bandannas. While it seemed like a simple issue to reconcile, I soon found another teacher knocking on my door that morning, asking me to tell Alyssa to take the bandanna off. He said he didn't feel comfortable handling the situation but knew I could persuade Alyssa to follow the rules because she trusted me.
That day, I took Alyssa aside, and we had a private conversation about why bandannas were not allowed at school. I assured her that I understood why she wanted to wear a headband, and I even offered her the option of wearing a different one. After our conversation, Alyssa calmly went to the bathroom and returned to class without the bandanna on her head.
This seemingly small encounter reminded me of the power of positive relationships in schools and why teachers must be intentional about building them. In the classroom, positive relationships are the foundation for learning success. Yet as teachers, we sometimes neglect to take the time to learn about our students as people, which can create barriers to learning and make even small interactions (or conflicts) challenging to handle.
Alyssa wasn't a perfect student, and math didn't come easy for her, but she worked hard in my class. She asked questions. She even came in before and after class for additional help or just to talk about her social life. She trusted me because I worked hard to build a relationship with her by showing that I respected her and cared for her well-being. 
Many teachers feel pressure to cover content and to tackle many other job-related duties. However, I have found that investing time early and often to learn about students—by making small changes in our classroom—creates an environment where they are motivated to be successful. Here are six strategies I use to build better relationships with my students.
1. Learn names quickly and correctly. Too often, students, especially those who are marginalized, feel invisible in our schools. Value student diversity and identity by learning names quickly and pronouncing them correctly. Only use nicknames if students prefer them; never create a nickname for a student, because this strips him or her of the identity that is embedded in a name. Every year on the first day of school, I have my students create name tents and pronounce their names correctly for me. I practice pronouncing their names often. I take up the name tents and pass them out each class period until I have learned all of the students' names. I greet each of my students at the door by name before class. 
2. Students are never too old for show-and-tell. Help students feel they're more than just another student by allowing them to bring in something that represents them, their culture, or some activity that they enjoy doing at the beginning of the year. Plan five to 10 minutes each day for a few students to share what they brought until you have given everyone in the class the opportunity. In my classes, students have brought in baby pictures of themselves, goggles that they use for their competitive swim team, and souvenirs from a family vacation. Once, my student Hannah brought her ukulele and sang the class a song. She turned show-and-tell into a party, and my students loved every minute of it.
3. Post student pictures and student work. Elementary teachers are very good at sharing student work, but middle and high school teachers often neglect this important practice, feeling that it's unnecessary for older students. I've found older students still need to be reminded that you value their work. When my students participate in the show-and-tell, for example, I snap a picture of them. Those pictures are then printed and posted on a bulletin board in class that stays up all year long. The students love seeing how they have changed over the course of the year because they realize that their growth and development is not only physical, but intellectual and emotional as well. In addition, students are so proud when their exemplary work, such as individual math projects and group work on math tasks, is displayed and celebrated.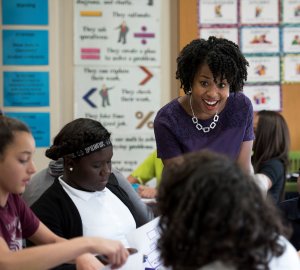 ©Theresa Montgomery
Cicely Woodard talks to her students during a STEM class.
4. Assign seats, and change them often. We all know that middle school students don't always get along, but when students have opportunities to work together, they learn about each other and discover ways to work together even though they're different. I have my students sit at tables in my middle school math classroom. I assign them to tables of three or four students each; then they change seats once per week using an online random seat changer that is embedded in our attendance management system. After each change, the students answer a quick question, such as, "Who would you love to have dinner with and why?" to get to know the people at their table before spending a week collaborating with them on mathematical tasks.
5. Find small ways to connect. In my first-period class, we often have circle time on Monday mornings or after a break. We stand in a circle and pass a ball around. The person with the ball shares a compliment about another person in the circle, what they did over the weekend or the break, or how they are feeling in the moment and why. Once a student participated in goat yoga for a friend's birthday over the weekend. We were all intrigued by her pictures of goats walking on their backs during yoga class! If I forget circle time on Mondays, my students always remind me. They also always insist that I share too. Though it can seem like every minute is needed to get through the academic content, I've learned that a five-minute investment once a week to learn about each other is invaluable to my students and builds a better culture in my classroom.
6. Simply listen. As teachers, we often feel like we need to keep a professional distance from our students, but I've found that taking time to make small talk can help break down barriers to learning. Because I've made myself approachable, some of my students will tell me stories about their lives during the five minutes between classes. I stop what I am doing, look them in the eyes, and listen. I love seeing their eyes light up as they tell me these stories, and these encounters always leave me a little more knowledgeable about who they are as people.
All students deserve to have adults in their schools who care about them enough to be intentional about building positive relationships that give them the space to make mistakes and learn. If we truly expect our students to learn with us, they need to know that we care about them. They also need opportunities to learn about each other, so that they can build a community in which they grow together as learners.