Mental Health
6 Simple, Low-Cost Ways to Promote Student Self-Care
From communal coloring to collaborative puzzles, these accessible activities offer moments in the school day for kids to pause and focus on their own well-being.
As students reach the middle and high school years, managing increasing academic and personal responsibilities alongside rapid developmental changes can be challenging—and sometimes overwhelming.
For many tweens and teens, prioritizing mental health and wellness is often the last thing on their minds.
"Adolescents face social, emotional, and hormonal changes, often with little or no guidance," writes high school math teacher Ty'ara Jones. As they begin to transition into adulthood, they're often "unsure of what they're experiencing both mentally and physically. Sometimes they're afraid and confused. Some don't know how to 'properly' express themselves, so they bottle their emotions, only to become overwhelmed."
Schools can help support students by providing spaces for them to decompress and release stress throughout the day, even if it's just for a few minutes between classes, says high school counselor Lisa Carr.
"It's challenging for kids to fit in self-care," Carr says. "I ask my students, 'when are you doing things that make you happy and bring you joy?' That can be something they struggle with—they've got to study, they have an internship, they have to stay after school for practice. So even 10 minutes to work on a puzzle with a friend or do some coloring, that's a break from the stress of their day, and that can have an impact."
These sorts of initiatives increase feelings of school connectedness and help foster a nurturing and supportive school environment. Students who felt connected to adults and peers at school, according to a recent report from the CDC, reported feeling sad or hopeless less frequently and were less likely to consider suicide than their peers who felt isolated or alone.
"School connectedness is a key to addressing youth adversities at all times—especially during times of severe disruptions," says Kathleen A. Ethier, director of the CDC's Division of Adolescent and School Health. "Students need our support now more than ever, whether by making sure that their schools are inclusive and safe or by providing opportunities to engage in their communities and be mentored by supportive adults."
Here are six inexpensive, low-lift initiatives designed to offer students opportunities to connect with adults and peers in ways that prioritize self-care and wellness:
Communal Coloring: Hanging large sheets of paper for coloring murals allows students to work together and connect through art—and because it's on paper, they can start fresh throughout the year.
After seeing the effectiveness of this stress-relieving strategy with students at a local college, and with permission from her principal, Carr placed a coloring mural in the hallway near the cafeteria in her school building.
"I remembered a mural hanging up in a residence hall," she recalls. "It was really popular. When students got out of classes, they would go and color. It was a great community builder—you'd have students who were standing there coloring alone and they'd start talking to other people."
The mural had a similar effect at Carr's high school. A few envelopes taped to the wall hold markers and colored pencils that students can use to contribute between classes, or even between songs at the homecoming dance. Educators can join in the fun, chatting with students about their additions and color selections or by coloring in a panel or two themselves.
Kindness Rocks!: A few basic materials can turn simple rocks into encouraging and supportive messages and reminders for students to find around campus.
High school counselor Ryan St. John organized a 'Rock On, Keep On' event, inviting students to congregate in an open area—the school foyer, for example—during lunch or other free periods to paint motivational messages on landscaping rocks.
The activity, hosted during Suicide Prevention Month, provided an opportunity for students to mingle and enjoy themselves, while encouraging them to practice empathy and support mental health and well-being. "There are startling and sobering statistics showing 19 percent of high school students in the U.S. have seriously considered suicide," St. John says in Spotlight News. "That is one in five students walking the halls of our high school. It is a statistic that deserves more of our collective attention."
Students produced over 200 painted rocks during the event, with messages ranging from "Never give up" to "You are not alone in your struggles. It may seem dark right now, but that is temporary. Someone loves you. You are strong. There is hope."
Motivational Messages: Handwritten notes from teachers can have a powerful impact on students, helping them feel seen and valued. Similarly, small notes of encouragement that students can take for themselves or deliver to a friend help foster a sense of caring and community.
The biggest lift is at the start: You'll need to spend a bit of time jotting positive affirmations on Post-It notes. Educator Olivia Gordon, for example, writes encouraging messages like, "Have an awesome day," "Wherever life plants, you bloom," "Be brave," and "Live the life you love." Stick them on a bulletin board or poster board in a high-traffic area inside the school building, and consider providing additional Post-Its and markers along with a sign—"Take What You Need, Leave What You Can"—so passersby can contribute additional inspirational phrases.
Puzzle Party: Placing puzzles in communal spaces where students gather offers a low-stakes opportunity for kids to decompress for a few minutes during the school day.
In the reception area of the counseling center at Bethlehem Central High School—where students check in for counselor appointments—several puzzles are set up at a large table for kids to work on while they wait. Once they leave, other students can jump in to add a few pieces to the puzzle. The initiative, which began with a few puzzles purchased from The Dollar Store, became so popular that students started bringing in their own puzzles from home, Carr says.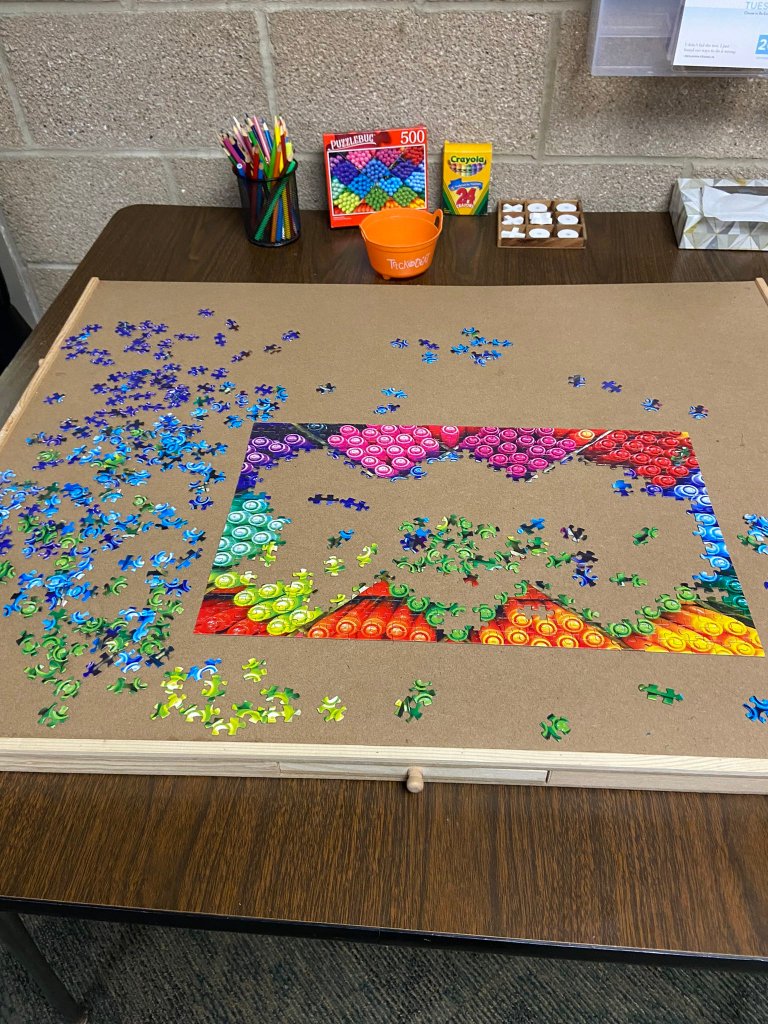 Courtesy of Lisa Carr
The collaborative puzzle table inside the counseling center at Bethlehem Central High School.
Working on a puzzle has similar benefits as meditation, says licensed clinical psychologist Michelle McCoy Barrett in Popsugar. Solving puzzles can help relax the mind and body, she says, "decreasing stress, and even slowing your heart rate and lowering your blood pressure."
Balance Through Bubbles: Though deep breathing and mindfulness exercises using bubbles are typically targeted toward earlier grades, older kids aren't immune to the calming effect of gentle bubble blowing—especially at stressful times, like right before midterms or finals.
Instruct students to inhale while imagining they are a bubble, writes elementary school counselor Keri Powers. "Focus on your body being filled with air. As you blow out, feel your body relax, letting your thoughts about the past and future float away, just like a bubble floats. Focus simply on your present feelings and thoughts about the current moment."
Since bubbles can get sticky or spill, setting up a station staffed with an adult outdoors or on a tarp can help minimize the cleanup and ensure things don't get too messy.
Collective Graffiti Wall: Hang several poster-board size sheets of paper in the school hallway and invite students to use them as a graffiti canvas. They'll quickly transform it into a vibrant art display using nothing more than colored markers, an interesting prompt, and their imagination.
Graffiti walls are sometimes used in classrooms as an alternative to reading logs—a space for students to jot down quotes that resonate with them—but when placed in school hallways or other communal spaces, they can become a space for students to express themselves, ponder engaging questions, and interact with peers.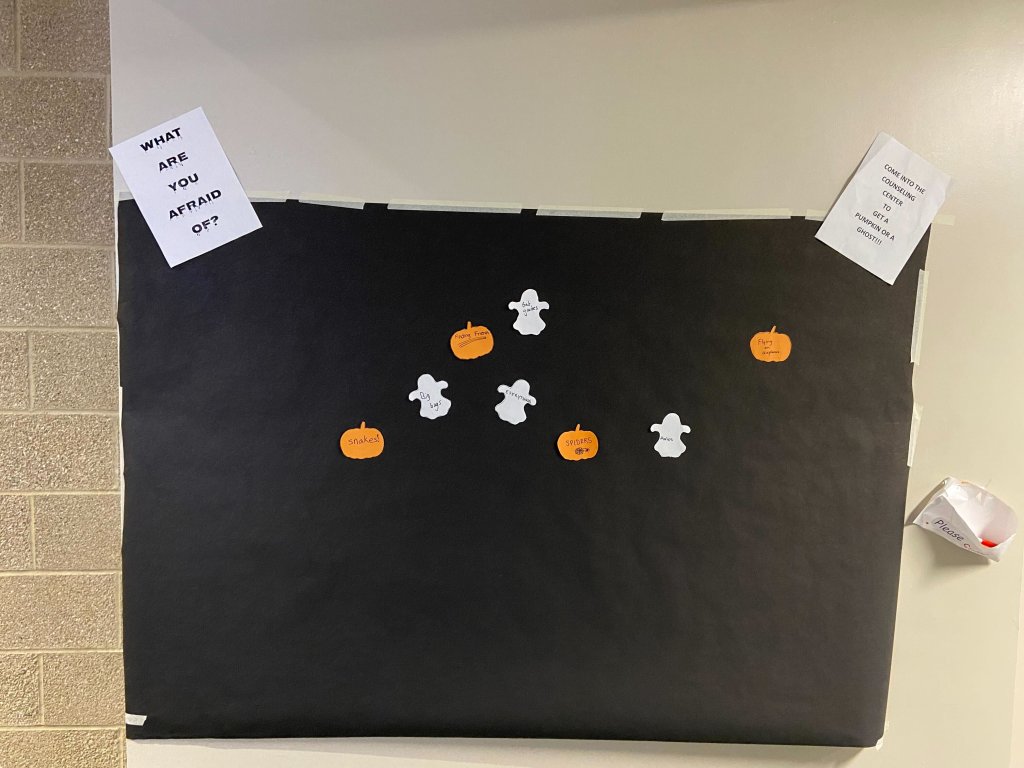 Courtesy of Lisa Carr
A recent Halloween-themed graffiti wall at Bethlehem Central High School where students wrote down their fears on pumpkin and ghost cutouts.
Try a low-stakes prompt like "What TV or movie characters do you wish were real? Why?" or a seasonal question like "What's something that you're thankful for?"
To protect the graffiti wall from being vandalized, consider storing the markers in the front office or a nearby classroom where students will have to come in and request one to add an answer, Carr suggests. And keep a bottle of white-out handy to cover up unwanted additions.