Media Literacy
5 Reasons to Actually Encourage Students to Use Wikipedia
Despite its drawbacks, the online encyclopedia has value, particularly for those just getting started with research.
November 4, 2021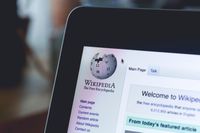 Vladimir Zuev / Alamy
Currently, the English version of Wikipedia includes about 6.4 million articles, providing instant access to knowledge on nearly every topic imaginable. The fact that it's made available for free, without advertisements—in 323 languages—is absolutely mind-boggling. Yet students are often actively discouraged from using this unique, unprecedented resource.
Here are five reasons I believe we should be doing the opposite—encouraging students to use and contribute to this vast repository of knowledge—from my perspective as both a middle school teacher and a scientist.
5 Reasons Students Can Benefit From Using Wikipedia
1. It's a good place to start: Wikipedia is the first place many of us go when we want to know something. If you just need a general overview of something and how it connects to other topics, there's really no better place to go than Wikipedia. But if anyone can edit pages, how accurate could it be? Since its very beginning, many people (including one of its co-founders) have expressed concern about the accuracy of Wikipedia.
But many studies have shown that Wikipedia is a pretty accurate, if incomplete, source of information on topics ranging from pharmaceuticals to political science, and that its articles are about as accurate as alternative resources such as Britannica.
One reason for this is that scientists and other experts are constantly editing and maintaining pages in their fields. Of course, as a crowd-sourced, highly edited website, there are mistakes, some of which last for many years, even after being flagged. A potentially challenging and rewarding assignment can be to ask students to identify and correct such errors.
2. It contains lots of basic facts: Sometimes you need a generic fact, and Wikipedia is about as authoritative a citation as you probably need for a factoid like: the deepest part of the world's oceans is the Challenger Deep. Additionally, sometimes Wikipedia may be the only easily accessible, free resource for some information. In developing a lesson on the long-term impact of oil spills, I found no other comprehensive list estimating volumes spilled.
Moreover, Wikipedia is often cited in both scientific studies and judicial decisions. This is not necessarily good, but this point could be a great hook for engaging lessons on media literacy—how and when is it OK to cite Wikipedia? Is citing Wikipedia to support a critical point a sign of bad science?
3. It leads students to additional sources: Even if Wikipedia is not typically an acceptable citation (you can have students read the site's disclaimer explaining as much), it's a fantastic starting place for students to ground themselves in a topic. Many teachers already encourage students to follow the references linked in Wikipedia articles to find valid primary sources of information. Rather than presenting the site as a mere through-point for learning, lessons could instead center on improving Wikipedia pages. In addition to correcting mistakes, students can add additional citations and missing information to existing articles.
Students who try to do this on school grounds will often find that their IP address has been blocked due to vandalism by some of their classmates, requiring them to create an account on a different Wi-Fi network. This leads to all sorts of interesting hooks for lessons about digital citizenship and how Wikipedia deals with vandalism. In addition, encouraging students to edit pages will introduce them to transferable tech skills. Wikipedia's system of editing and page moderation is a bit technical and requires the careful curation of collaborative, complex documents—a common demand in today's workforce.
4. It's where history is actively being written: Having a Wikipedia page is a new metric of legitimacy for historical and living figures. For example, there's an effort to create Wikipedia pages to recognize the underappreciated role of women in science. This site also offers a great starting point for interdisciplinary lessons at the intersection of science and society.
For example, have students check out the Superfund page to learn what the term means and find out how many toxic sites exist in your state or within easy driving distance. Diving deeper into the history and locations of these sites can lead students to learn about ecological and environmental (in)justice issues that may not be well known to the public.
5. It offers students a chance to make a difference: In an era of climate change and other staggering global problems that can lead students toward apathy and eco-anxiety, Wikipedia offers an outlet for real agency. In school and in life more broadly, students rarely get the opportunity to help build things or solve problems that "matter" to adults. As teachers, we can create assignments that challenge students to synthesize new data, address missing information, or create new pages of local or global importance.
By doing so, we allow them the satisfaction of contributing to a cause much larger than themselves and creating content for one of the world's most visited websites. Encouraging students to go down the rabbit hole, clicking follow-up links in Wikipedia can help encourage curiosity and provide a launchpad for inquiry-based projects that deepen students' civic engagement.
Wikipedia is far from a perfect platform, but if we encourage students to recognize its strengths and flaws as they participate in improving this collective chronicle of our species and our understanding of the universe, we can teach many valuable lessons: how to know what is true, that each student's voice matters, and that together, we can accomplish great things.
Here are a few interesting pages to stimulate independent research, discussion and/or reflection:
List of Wikipedia Controversies
List of Native American Political Leaders
Charles Howard, 20th Earl of Suffolk (just an all-around, international man of mystery)