English Language Learners
5 Free Video Games That Support English Language Learners
These games simulate real-world problems, guiding middle and high school students to engage deeply with content—and embedded supports benefit English language learners in particular.
Serious simulation games—which I have described as being "designed for the fundamental purposes of education for reaching a solution for real-world dilemmas"—can be especially effective in engaging middle- and upper-grade ELLs in rigorous content application. By inviting players to actively solve relevant problems, these games work to expand the ways in which learners see and interact with the world around them. For ELLs in particular, serious simulation games present an opportunity to demonstrate both existing funds of knowledge and fresh academic learning in ways that reduce the demand for expressive language.
All well-designed educational video games support students by scaffolding learning as the challenges intensify. For ELLs, digital gaming structures work to enhance content learning in ways that mirror our best instructional practices. For example, video games rely upon visual imagery, kinesthetic movement, and repetition that leads toward mastery, and they can reduce students' fear of failure.
This is especially evident in serious simulation games. Because they foster collaborative problem-solving, these gaming platforms require students to exercise all four language domains—reading, writing, speaking, and listening—in meaningful ways. And the mechanism of gameplay offers low-anxiety on-ramps to content learning.
Serious simulation games lend themselves to culturally responsive practice, too, because players work collaboratively toward a greater good or shared goal. From a culturally responsive perspective, this speaks directly to those ELLs who identify with collectivist cultural values—which is almost all students with non-Westernized backgrounds. Serious simulation games appeal to other cultural components as well, including game play and patterning systems used in culturally rooted memory devices, such as rhythm, repetition, story-based learning, and improvisation. Aligning instruction to students' culture has been shown to promote active engagement and improved academic outcomes.
5 Free Games to Get Started With
1. Activate: Activate is an interactive gaming platform rooted in civic participation. Players align with and campaign for a cause within their community. The game walks users through raising awareness for their cause, managing campaign resources, and engaging community stakeholders. Activate coaches players toward positive civil engagement within their communities. Recommended grades: 6–8.
Embedded supports for ELLs: labeled imagery, guided writing, embedded reading, interactive feedback and support, and repeated practice leading toward mastery.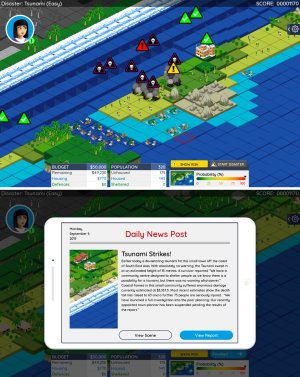 Playerthree
Stop Disasters is an engaging game with a serious purpose.
2. Stop Disasters: The United Nations Office for Disaster Risk Reduction designed the virtual simulation game Stop Disasters to create awareness around natural disasters. The game invites players to strategically reduce the impact of these events. Players must carefully manage resources, plan cities, and build defenses to protect their population. Student fact sheets, resource links, and teacher planning tools are available. Recommended grades: 6–10.
Embedded supports for ELLs: labeled graphics, brief definitions, fact sheets for background knowledge, and success reports formulated as a graphic organizer. Working through simulations in pairs or teams encourages speaking and listening skills.
3. Brothers Across Borders: An initiative of the Danish Red Cross, Brothers Across Borders combines interactive storytelling and gameplay with the purpose of introducing students to the realities of the Syrian refugee crisis. Players assume the role of a teenage refugee and must make critical decisions with the goal of locating their character's older brother. Brothers Across Borders takes players to real-life locations in Syria and Turkey, and students use modern technology, like cell phone GPS and text messaging, to complete the mission. The game is based on the true stories of Ismael and Muhammed and is designed to facilitate an understanding of the refugee experience, spur conversation, and promote positive action. Brothers Across Borders is available in eight languages. Recommended grades: 7–12.
Embedded supports for ELLs: visual imagery, text prompts, longer reading time, language supports (print maps, graphic organizers, Google maps), translations for Arabic-speaking parts, phone "texting," speaking prompts, sentence starters. 
4. Planet Hunters TESS: Planet Hunters TESS invites users to engage in purposeful space exploration. Players navigate space using data captured by the NASA space telescope Kepler via collaborative star quests, with the goal of discovering new extrasolar planets. Real-world field researchers analyze players' astrological observations. Gamers who do identify new extrasolar planets are invited to serve as co-author on the published discovery paper. Recommended grades: 8–12.
Embedded supports for ELLs: brief tutorials with visual supports, opportunities for collaborative conversation, and links to resources for building background knowledge.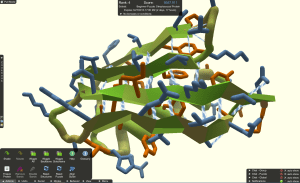 Foldit
The game Foldit enables students to contribute to real scientific research.
5. Foldit: Foldit brings invites all players to contribute to critical scientific research around protein folding. Through the gaming process, players work alongside actual scientists to test out ways to solve for unknowns in protein structure and design. Each move within the game translates to real-time research. Players accumulate points for correctly manipulating strands of amino acids. Foldit has led to important advances in treating HIV/AIDS, cancer, and Alzheimer's. Teacher tools and lesson plans are included. Recommended grades: 9–12.
Embedded supports for ELLs: labeled imagery, modeled practice, embedded class chat, video supports, and hands-on engagement.