Parent Partnership
4 Innovative, Local Programs Smooth Kindergarten Transitions
Starting school can be stressful for children, parents, and schools, but communities throughout the country are meeting the challenge head-on.
Community Alliances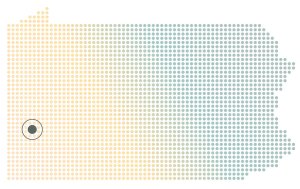 © Shutterstock/boreala
Pittsburgh, Pennsylvania
Pittsburgh Public Schools had a problem.
Despite the research proving the importance of kindergarten, parents of kindergarten-aged children were missing key district enrollment dates, or were completely unaware of their options and responsibilities as the school year approached.
Not surprisingly, some children were starting kindergarten partway through the year and losing out on critical lessons and developmental opportunities, which put them at a clear disadvantage. The issue seemed most pronounced among low-income parents and children in need of a strong foundation as they embarked on their early years of schooling.
The inventive solution involved pizza delivery and a frog costume. 
Starting with the low-income community of North View Heights, staff from the University of Pittsburgh's Office of Child Development began working with the Pittsburgh district to develop programming aimed at guiding parents through the registration process.
With parent input, the organizers quickly realized the outreach had to be locally driven to be effective. They reached out to a local pizza shop, which agreed to include important information about kindergarten—like enrollment dates and details about the registration process—on the pizza boxes when delivering to North View Heights. The organizers also held a free hair-braiding night for incoming kindergartners and parents at a local school.
The Ready Freddy program grew from there.
Now in its eighth year, Ready Freddy, which adopted an amiable frog as its mascot, has worked with schools and families across the Pittsburgh district to help parents understand the importance of kindergarten.
Partnering schools develop kindergarten transition teams composed of school and Ready Freddy staff, parents, teachers, and community partners, and create welcome centers so parents feel more comfortable visiting schools. Each school also runs a Kindergarten Kickoff event on the first day to create a memorable, celebratory environment geared to both parents and their children—parents are even invited to stay all day.
© Ready Freddy
A Pittsburgh kindergarten student high-fives Freddy the Frog as she walks into school.
Meanwhile, Freddy the Frog has become a minor celebrity: He's now the official mascot for kindergarten throughout the district. Freddy appears at events like cookouts, carnivals, and tours to get kids excited about kindergarten, and frog prints line school hallways to guide parents to key spots within their child's school.
At last count, the Ready Freddy program was working with 10 public elementary schools in the Pittsburgh district. Sixteen local schools also participate in the Kindergarten Kickoff. At the end of the year, the program will phase out as schools are expected to carry on the work independently.
Civic Partnerships
With the support of a flock of community allies ranging from Boston Children's Hospital to the Whole Foods grocery chain, the Boston Public Schools district is helping parents select and enroll in local schools through a program called Countdown to Kindergarten.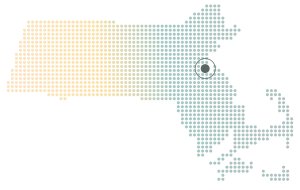 © Shutterstock/boreala
Boston, Massachusetts
Established through the mayor's office in 1999, Countdown to Kindergarten works with public and private partners to provide wraparound, comprehensive supports to families of children starting school for the first time.
Information about the program (and area schools) is available at health centers and local preschools, and a partnership with 27 branches of the local library system helps parents get connected to school services—in addition to registering them for library cards to encourage reading at home.
The district and other community groups also partner with Boston Children's Museum, which houses an innovative kindergarten model classroom as a permanent exhibit. The 1,500-square-foot exhibit, which opened in 2010, features typical stations you'd find in a kindergarten classroom, such as reading, writing, and arts and crafts corners. Children can practice skills like taking turns, packing up a backpack, and sitting in a group circle to listen to a story.
© Paul Specht
The kindergarten exhibit at the Boston Children's Museum features typical stations you'd find in a kindergarten classroom.
The museum also hosts programming every Friday that targets educators and parents and an annual event before school starts, on top of providing resources for parents and educators on topics ranging from social and emotional learning to developmental milestones. Museum staff estimate that up to 3 million people have visited the kindergarten exhibit since it opened six years ago.
Parent-Driven Engagement
In communities like Pitt County, North Carolina, located near Greenville, even small changes can have a considerable impact on parents and their children.
Through community outreach, a chapter of the national advocacy group Parents for Public Schools (PPS) found that many Pitt County parents were frustrated by the kindergarten enrollment and transition process.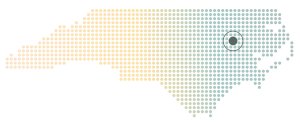 © Shutterstock/boreala
Pitt County, North Carolina
For starters, parents in the 23,500-student district felt that they didn't have enough information about local elementary schools and the process for registering their children. There was also general confusion about the district's staggered entry process—parents found out days before school started what day their children should arrive.
Additionally, Pitt County parents wanted a better window into their kindergartens for both parents and new students. There was a widespread desire for school tours with other parents, and an agreed-upon need for programming geared to incoming kindergartners, so students could get to know their schools and ease any lingering anxieties before their first days in class.
With organizing from PPS, parents presented these concerns to the local school board, and the district agreed to work on resolving the issues.
Today, all incoming kindergartners in Pitt County with last names starting with A through L start school on a Monday, and children with last names starting with M through Z start on Tuesday. The district has committed to hosting a parent meeting each spring to discuss key aspects of the kindergarten enrollment process. The school district also now plans scheduled tours of every school in the district, so families can benefit from a group dynamic.
And last year, some schools began implementing kid-centered activities on campus like Popsicles for Kindergartners, pizza bingo, or picnics before the school year began.
Summer Camp
Other programs are helping ensure that students start school with their best foot forward.
© Shutterstock/boreala
Louisville, Kentucky
Five years ago, the Louisville, Kentucky, school district determined that less than half of the incoming kindergarten students were deemed ready for school. An assessment test that measured students on 41 skills ranging from tying their shoes to recalling their home address had not gone well.
The poor results inspired the Jefferson County Public Education Foundation and the C.E. & S. Foundation to create Camp Ready4K, a kindergarten-readiness camp that serves incoming students throughout Louisville the summer before they start school.
© Jefferson County Public Education Foundation
Camp Ready4K participants work on an activity at a program site last summer.
For the past two summers, the camp has helped ensure that new students, especially low-income students who often have not had much access to early childhood programs, have the skills they need to succeed in kindergarten.
At the camp's 10 locations, students receive instruction from a mix of early childhood instructors, kindergarten teachers, and education specialists for five hours each weekday for four weeks. They're also provided with breakfast, lunch, and transportation, and a parent-engagement portion helps teach parents how to foster early learning development at home too.
With support from public and private funders and a partnership with some area Catholic schools, the program was able to serve 700 children last summer, a jump from the first year's 250. There's also been a rise in participants' preparedness as measured on the district's kindergarten skills assessment—more than 70 percent of readiness camp participants were deemed prepared on the assessment at the start of the 2016 school year, compared with 48 percent of non-participating students.
Next summer, the foundation plans to serve more students, and they are also considering running supplementary mini-programs throughout the school year, dubbed booster shots, to consistently keep kindergartners' skills up to grade level and ensure that they are ready to start first grade.