Teacher Wellness
2016 Teacher Gift Guide
Looking for a gift for an amazing teacher? We've got you covered.
While major retailers have been stocking holiday gear since Labor Day, the true holiday season is now upon us. If you're like 90 percent of U.S. adults, there's a good chance you'll be scrambling at the last minute to find gifts for the educators on your list. You want to give your kids' teachers something decent, something personalized, or at least something heartfelt. But what do you give to someone who gets 30 or so gifts per year per class?
This year, to give you inspiration, we reached out to some educators for their suggestions about what they really want—and what they don't.
"Please, please no more coffee mugs," begged one elementary teacher. "Or holiday gnomes, ornaments, or snow globes," chimed in another. "I have no room, and, after 20 years of teaching, these go straight to Goodwill."
Okay then, what is a well-meaning parent to do?
For Anyone on Your List
According to our (very) informal survey, there is one sure-fire holiday gift idea: gift cards. Whether you go with something mainstream like Amazon, Target, Starbucks, or iTunes, or something more personalized like a local restaurant or gift shop, gift cards are the educators' jam—anything you do to help boost their spending power is going to be a hit. And if you include a handwritten note of appreciation and/or a piece of handmade art from your child, so much the better.
We also heard that school supplies are always a welcome gift, for teachers of any subject or grade level. You have a little more creative freedom with art or science teachers, but there are some school supplies that are universally appreciated. And for extra pizzazz, you can get creative with the presentation.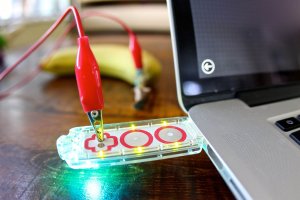 © Makey Makey
For the Maker
Simple to use, Makey Makey is great for newbie nerds. This little device turns everyday objects like bananas into touchpads (above) and connects them to the internet, making it a must for artists, engineers, and makers—and anyone with a sense of whimsy. Teachers can use it with conductive paint to create music or measure distance, rate, and time for great science lessons ($49.95 at Amazon).
For the Computer Hobbyist
The amazing Raspberry Pi is a tiny computer that is ready to do just about anything teachers might want. They can play Minecraft, use it to run holiday lights, or make their own photo booth. As a gift for new users, we suggest the starter kit, which includes everything they need ($49.99 on Amazon).
For the Would-Be Pilot
Give your favorite educator an extra set of eyes with the Sky Rover Hexa 6.0 Drone. With a little programming, teachers can use the Sky Rover—which runs on four AA batteries and has a camera that can be turned on and off—to decompress after school with some flips and rolls ($99.90 at Target).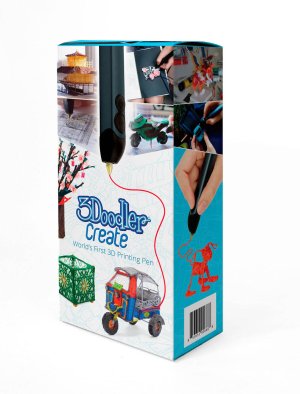 © Lewis Durkin/Dynamo PR
For the Artist
Why throw down the cash for a 3-D printer when you can give teachers the 3Doodler Create pen for $99 (left)? This tool allows them to take their creativity to another dimension. Users can create whatever they can imagine using colorful heated plastic that hardens instantly. A fun introduction to 3-D design.
For Those Who Never Want to Leave the Classroom
For the educators on your list who might miss that classroom smell during vacations, consider a Bubble Gum or No. 2 Pencil candle for waxy olfactory satisfaction. Each item is handmade by the Stinky Candle Co. in Illinois. They also sell a Money candle, but in our experience actual money is always preferred ($9.99 each).
For Those Who Want Peace and Quiet
Some teachers may just want a quiet oasis from the cacophony of the classroom. For them, we suggest the hearing protection devices worn by airport crews to dampen jet noise. A couple of options: Condor Preformatted Ear Plugs ($21.07 at various online retailers) or Over-the-Head Ear Muffs ($48.10 at Grainger).

Hyperbole aside, our survey revealed that the best gifts for educators (other from money) are from the heart. A card or note that shows a little care and thoughtfulness will always be a hit. But we'd love to hear what gifts you've found for the teachers on your list—please share in the comments section. Teachers, let us know what gifts have been most meaningful to you.