Professional Learning
Reform Starts Now: Obama Picks Arne Duncan
His selection for secretary of education shows that public education is a priority.
President-elect Barack Obama talked reform while announcing Chicago schools chief Arne Duncan as the next U.S. secretary of education.
"For Arne, school reform isn't just a theory in a book, it's the cause of his life," Obama said at Tuesday's press conference. Obama specifically mentioned pay-for-performance teacher salaries and charter-schools development as strategies with strong potential.
"If charter schools work, let's try that," Obama said. "Let's not be clouded by ideology when it comes to figuring out what helps our kids."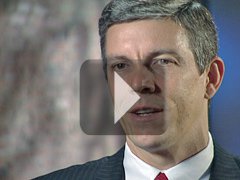 VIDEO: An Interview with Arne Duncan (2007)
Running Time: 11 min.
Duncan described his clear-eyed view of education in a June 2007 interview with Edutopia when he said, "Quality public education is the civil rights issue of our generation."
Duncan, known for transforming underperforming schools and experimenting with new models, has a record as a pragmatist with a taste for innovations. His version of reform, judging by his record, centers on boosting teacher quality and supporting students with added services such as after-school programs. In the Chicago Public Schools, where 85 percent of the 400,000-plus students live below the poverty line, test scores, attendance, and teacher retention all went up during Duncan's seven-year tenure, while the dropout rate declined.
The Buzz
For weeks, pundits, educators, and education bloggers have speculated on what Obama's pick would show about his true beliefs on education.
"Arne Duncan has a type of personality that Obama seems to prefer, which is a pragmatist who will bring about change, but he'll do it in a way that will minimize confrontation in conflict," says Jack Jennings, president of the nonpartisan Center on Education Policy. "He's brought about change in Chicago, but it hasn't been a head-on clash with the teachers' union. He's done it in a way that they all walk away from the table congratulating each other."
Supporters say Duncan has the right constitution for the job. On both substance and style, he has won praise from divergent interest groups, including the American Federation of Teachers and the New York City-based Democrats for Education Reform.
Duncan shut down Chicago schools that performed poorly and reopened them with entirely new staffs. He started coaching and mentoring programs for teachers. He also supported a boom in new charter schools with diverse models, from military academies to single-sex schools, and piloted a program to pay teachers bonuses for top performance -- two controversial innovations Obama supports.
An Uncertain Future
Of course, an education secretary can't exactly dictate reform from on high. But he can use the bully pulpit to put a spotlight on certain problems and solutions, says Jennings, and hand out grants to support new innovations. He can also provoke change through regulations -- most notably those that guide implementation of the No Child Left Behind law.
On NCLB, Duncan is a middle-of-the-roader; he supports the law's goals of high expectations and accountability but has challenged Congress to improve it by doubling its funding and amending it "to give schools, districts, and states the maximum amount of flexibility possible."
Not the least of Duncan's hurdles will be the nation's preoccupation with the economic crisis. In a sign of the media's interest in education, the first question at Obama and Duncan's press conference after the announcement of Duncan's nomination was about the Federal Reserve Bank lowering its interest rates.
The financial squeeze hitting schools could hinder Duncan's efforts.
Making money and resources key to success, Duncan and Obama both made the case for education by defining it as the path to prosperity; Obama called it the "single biggest determinant" of the economy's long-term health.
"We're not going to transform every school overnight," Obama said. "What we can expect is that each and every day, we are thinking of new, innovative ways to make the schools better. That is what Arne has done. That's going to be his job. That's going to be his task."
Grace Rubenstein is a senior producer at Edutopia.