Professional Learning
You Oughta Be in Pixels: Discover the Photographer in You
Quick tips for choosing and using a digital camera.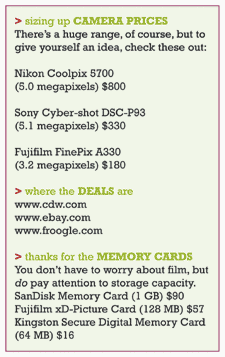 Credit: Victor Rivero
Not everyone is a born Annie Leibovitz, and even veteran camera buffs may need to take a deep breath before picking up a digital camera. Nothing to fear: We've done some of the groundwork, digging up simple tips to take the mystery out of digital picture making.
Choose the Camera
Should you use an 8-gajillion megapixel camera, or just any old point-and-click? Beware of cheap cameras (under $75). Often, they lack removable memory cards where the electronic images are stored. Once the preinstalled memory card is full, you can't just swap in a new one and transfer the photos to a hard drive later.
You may also want to invest in a memory-card reader ($20-$40) that plugs into the back of your computer. This will keep you from draining the camera's battery life while downloading photos. Ensure that your computer has a USB port and that you are running on at least Microsoft Windows 98 or Mac OS 8.6; earlier versions have trouble supporting high-resolution images. You can print on any old color printer, but for best results, use photo paper.
Size Things Up
Digital images can be displayed in a range of resolutions. If you set your preferred file size to be too small, you'll have low resolution when you print out the image, meaning you'll get those jagged edges. If you set it to be too big, your images will print at a nice, high resolution, but they'll take a long time to download, and your memory card will fill up fast (see chart below). Some devices now store several gigabytes of data -- enough to stash hundreds of large photos, or even several thousand. Generally, a 64MB card set at fine resolution (2,016 x 1,512 pixels) might allow for about 90 high-quality JPEG photos. It's possible to adjust the resolution to as low as 1,280 x 960 and take hundreds of shots. A camera with an "erase" feature means you can scratch images you don't want. Be sure your memory card (or disc) is compatible with your camera.
Compose Your Image
Click to enlarge picture
The method in megapixel madness.
>Credit: Victor Rivero
Image composition is the key to good photography. Beginners often get goofy with the zoom feature, and it's useful to understand that optical zoom actually brings the image close up. Digital zoom, however, just enlarges it, often resulting in grainy or pixelated photos. If the camera isn't advanced enough to allow you to adjust the shutter speed accordingly, you may get blurry shots as well. Also, the lag time between when you press the button and when the shutter snaps varies from camera to camera. This delay can make action shots hard to catch, so keep it in mind as you design projects.
Always watch for lampshades, trees, and other objects in the background that seem to sprout from the heads of your subjects. Also, if you're trying to get too much in one shot, the image can end up vague and boring -- a good photo specifically focuses on something or someone. Lighting can play a large part; shooting into the light will leave you with very dark faces. If you must, use a flash to fill in the shadows. Happy shooting.
Victor Rivero, the former editor of Converge magazine, lives in Los Angeles. Write to vrivero@earthlink.net.