Project-Based Learning (PBL)
Modeling Wilderness Management: Build Your Own National Park
Students balance enjoyment with preservation in this adaptable lesson for middle schools from the Yosemite Institute.
Allison Taylor, her blonde braids peeking out from her hat, swings a backpack full of food and teaching materials onto her back and gathers twelve seventh graders around her in the snow-covered Yosemite Valley. Taylor, a field educator with the Yosemite Institute, exudes the same energy as her charges. The lesson she has planned for the day is a culmination of the students' week-long stay in Yosemite National Park.
In the Build Your Own Park lesson, while thinking critically about the complexity of the mission of the National Park Service (NPS), students actively construct a national park out of the materials around them. And though these students are building their parks out of snow in the outdoor classroom that is Yosemite, teachers can use this lesson plan anywhere to help kids think about enjoying and preserving national parks.
Peak Performance:
Jager built a spire, dubbed Inspiration Peak, out of snow as part of a group's model of a national park in Yosemite Valley's Stoneman Meadow.
Credit: Lisa Morehouse
Taylor starts the lesson with a hook, playing a Yosemite version of hangman with the kids and asking them to put their fingers on their noses when they think they know what the phrase is. The correct answer: "This is 'Yoursemite.'" In pairs, students have a minute to discuss what "Yoursemite" means to them. One student, Jager, says, "It belongs to everyone." Meagan and Dalia chime in, "We've got to take care of it." And Tona adds, "Snow, friends, fun, teamwork." With that done, the group tromps through the snow to Stoneman Meadow, at one end of which stands the iconic Half Dome.
The students sit in a circle in the snow, and Taylor asks them about the goals of the park. The question elicits students' ideas about protecting wildlife and teaching visitors about Yosemite's culture and history. Then she reads them the NPS's mission statement: "The National Park Service preserves unimpaired the natural and cultural resources and values of the national park system for the enjoyment, education, and inspiration of this and future generations."
Students Plan Their Parks
Taylor assigns students to groups and then tells them the assignment: Create three-dimensional models of their own national parks out of snow. Each group will be given a few words that represent their mission (for example, education or enjoyment) and will create their park with these words in mind. Students will also decide on rules and regulations to ensure that the parks meet their missions. They'll have about fifteen minutes to build their parks, then present them and explain the rules to the parks' visitors (the other students).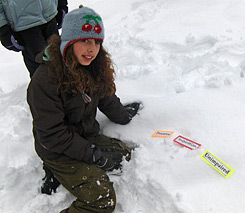 Credit: Lisa Morehouse
White Board: Willa's group built their model based on the words preserve, inspiration, and unimpaired.
Groups immediately run off to different areas of the meadow and start planning. Willa, Elyse, Jager, and Dela get the words preserve, unimpaired, and inspiration. While Jager marks out the space for the park, the others debate ideas. "Let's build a museum to preserve things," states Dela. "Doesn't that ruin it, because we're building on the park?" asks Willa.
A few minutes into the activity, Jager has built a huge spire out of snow that he's dubbed Inspiration Peak, and the group has named the park Kodak Park, because they say it's always a "Kodak moment" there. When Taylor checks in on them, Willa points out the volcano, waterfall, and river, and explains that they'll build a village with cabins in the corner of the park, a ranger station (so staff can help preserve the park), and a museum for cultural artifacts.
Rules and Regulations
Taylor starts asking questions: "What restrictions will you put on visitors? Where will you allow people to build?" The kids stop and look at one another. "I'm confused," says Willa, and Taylor affirms, "It's hard!"
Mountain Do:
Elyse, Dela, Willa, and Jager, flanked by Half Dome, present their model.
Credit: Lisa Morehouse
As their classmates tour Kodak Park, the group members share the rules that will support the mission to keep it preserved, unimpaired, and inspirational:
There is no littering or vandalizing.
Visitors must let the wild animals be. There is no feeding, petting, or riding.
Visitors cannot bring food or drink into the museum (except water).
Only a certain number of people can be in designated parts of the park at any given time, so visitors have to make reservations.
No one can knock down the mountains.
Visitors may not bring their pets.
Visitors can climb the mountains only if they have a license.
Visitors can go rafting in the river if they weigh more than 50 pounds, but they have to pay a fee.
All other activities in the park are free, because "you can't put a price on nature."
Cabins are $5 per night.
The park serves "environmental food" with natural packaging and only healthy food, including a vegetarian buffet.
There will be no cars; visitors must hike in.
Casey, Spencer, Dalia, and Jackie get the words education and enjoyment for their group. They design an adrenaline-pumping adventure park with exorbitant entry fees -- $1,000 per person. And Tona, Meagan, Erika, and Jordan, who receive the whole list of mission words, create a park named Happy, Happy, Joy, Joy. It features a hotel (so people can stay there), a mountain named Lovers' Peak (after its natural heart shape), a slide (which visitors will enjoy sliding down), a cave, a Bigfoot footprint, and a museum highlighting the culture of the Native Americans who once lived in the area. Meagan mentions one of the rules: "Don't step on the Native American artifacts." In fact, all the kids reference Native Americans a great deal in their plans. It's clear that the lessons about respecting the Miwok Indians, Yosemite Valley's first inhabitants, has sunk in.
After the park tours, the group circles back again. Taylor asks them about the challenges of designing a park that meets the mission's goals. "It's challenging to decide how many people can come," explains Willa. "You don't want to limit it." When Taylor asks whether achieving any part of the mission was easy, students mention education, history, and having a good time.
Preservation for the Future
When Taylor asks the students to consider the responsibility of stewardship, they begin to think about what the challenges to national park preservation will be over the next thirty years, such as the temptation visitors might have to build condominiums on the land or to not follow rules. Spencer worries, "We might run out of resources, so they might want to chop down trees and take more natural resources from the parks."
When Taylor inquires, "Is it important to have places like Yosemite?" all the students answer with a loud "Yes!"
Yosemite Institute's interim education director, Adam Burns, says activities such as the Build Your Own Park lesson add a layer of meaning to a fun week outdoors. "Sometimes, kids can come on a trip like this, have fun, get on the bus to go home, and the knowledge disappears," he laments. "With this activity, we're hitting on critical thinking. They can take this lesson back to the classroom and use it in life."
Lisa Morehouse, a former teacher, is now a public-radio journalist and education consultant.
Do It Yourself: Adapting the Lesson Locally
You and your students don't have to visit Yosemite, or even another national park, to do the Build Your Own Park lesson. You can introduce or close any study on the interaction between humans and the wilderness, the debate over preservation and development, and the mission of the National Park Service with this activity.
The lesson is best for students in grades 6-9, though it can be adapted to higher or lower grades. It is meant to take one hour of class time, but if you're implementing it in a more traditional classroom setting, you'll probably have to build up to the activity by introducing students to the National Park Service.
If you're doing this lesson at school, consider taking students outside and having them build their parks with materials they find there, if that's appropriate to your site. If not, they can use clay, paper, building blocks, Legos, or pretty much any other material. Students might want to spend most of their time building their parks, so make sure you nudge them toward developing the regulations and ask them questions about necessary rules, because that's where the tensions between preservation and human enjoyment come up.
You can adapt the Yosemite Institute's lesson plan to any national park or to your own classroom. -- LM
Natural Resources: Links for Learning About Wilderness
Check out these Web sites for information about environmental education and wilderness management:
-- LM