Assessment
Why Johnny (Still) Can't Read: Schools Meet the Challenge of Producing Teen Readers
As reading skills falter, educators push to improve adolescent literacy.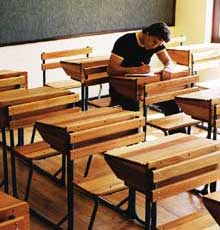 Credit: Veer
Even as books take a back seat to technology, reading is more important than ever in an increasingly complicated, information-rich world. Basic literacy no longer suffices. In higher education and the workplace, young people must handle an array of complex texts -- narratives, repair manuals, scholarly journals, maps, graphics, and more -- across technologies. They need to evaluate, synthesize, and communicate effectively.
Unfortunately, more than 8 million U.S. students in grades 4-12 struggle to read, write, and comprehend adequately. Only three out of ten eighth graders read at or above grade level, according to the 2004 National Assessment of Educational Progress. Readers who fall significantly behind risk school and workplace failure. In 2003, only three-fourths of high school students graduated in four years, the National Center for Education Statistics reports; the previous year, just over half of African American and Hispanic students graduated at all.
Without a high school diploma, it's harder to make a decent salary. In 2004, for instance, high school dropouts earned a median $401 per week, compared with $916 for college graduates. A new report from the National Governors Association, "Reading to Achieve," estimates that deficits in basic skills cost as much as $16 billion annually in lost productivity and remedial costs.
"Older children still need instruction on what you would call the critical reading skills: how to attack text in different subject areas, draw inferences, and bring background knowledge to bear in ways that make sense," explains Peggy McCardle, who oversees the child development and behavioral branch of the National Institute of Child Health and Human Development (NICHD).
Further complications arise for the nation's 5 million K-12 students with limited English proficiency. They "represent enormous diversity in skills and histories," observes Catherine Snow, a professor and leading expert in literacy at the Harvard Graduate School of Education. Though some students may know English, she adds, others "arrive with high home-language literacy skills and no English, or with a history of failed and interrupted schooling and no English." Few middle schools and high schools are equipped to provide it.
Though the bulk of literacy investment has centered on young children, the quest for improved adolescent-literacy skills has gained ground, thanks to tougher state assessment standards and, significantly, the federal No Child Left Behind Act. By requiring disaggregated scores as part of accountability, the NCLB "forces us as an educational community to look at those who are struggling," Don Deshler, director of the University of Kansas Center for Research on Learning, says approvingly.
The NICHD, part of the National Institutes of Health, has partnered with the U.S. Department of Education to fund ongoing research, including providing grants to five adolescent-literacy experts to explore new ways of learning. Researchers already have determined some scientifically sound practices, summarized in "Reading Next: A Vision for Action and Research in Middle and High School Literacy," a pivotal report coauthored by Snow and released by the Alliance for Excellent Education in 2004. It's one of several recent guides aimed at rallying educators, policymakers, and other stakeholders around adolescent literacy.
"Reading Next" identifies fifteen key elements found in effective programs. Nine promote instructional improvements, such as strategic tutoring and intensive writing. The rest relate to infrastructure, including stronger leadership and extending time for literacy education. Though the elements can be used in different combinations, the authors say three are vital: ongoing assessment of students to immediately address individuals' needs, ongoing assessment of the program to test efficacy and inform research, and professional development.
"Basically, it says every teacher in a middle school or high school plays a role in addressing the literacy needs of kids," says Deshler, an adviser on the project.
That's a new,and sometimes unwelcome, responsibility for subject-area teachers accustomed to leaving literacy instruction to the language arts faculty. Even English teachers may lack training in basic literacy instruction. Most colleges of education require only a single reading course for prospective teachers. To help current teachers improve instruction techniques, some schools are hiring literacy coaches (see "The New Drill: Teaching Educators How to Improve Reading Levels," February 2006).
Schools with more resources are using digital technology for literacy support. For example, interactive computer programs give students individualized lessons in vocabulary, while monitoring progress. Deshler and other advocates of improved adolescent literacy praise the Bush administration's new Striving Readers program, which directed $25 million to support reading achievement in poor secondary schools in 2005. (Congress is expected to approve at least another $30 million for 2006.) They also note that its funding is dwarfed by the more than $1 billion in federal funding set aside for Reading First, established by the NCLB to provide comprehensive instruction in poor schools through third grade.
Thanks to Reading First and its precursor, the Reading Excellence Act, says Susan Frost, an education consultant and a former president of the Alliance for Excellent Education, "every K-3 teacher can receive the professional development necessary to teach reading well." As a result, she says, "we're seeing upward movement in fourth-grade scores." That outcome, she adds, argues for more investment in students in grades 4-12 -- "most of our nation's students."
Bolstering adolescent-literacy rates takes resolve. Right now that's most pronounced at the state level, advocates say.
Two states stand out. The Alabama Reading Initiative began in 1998 to build K-12 literacy skills, though budget constraints limit the program to grades K-3. Just Read Florida followed in 2001; this year, the state will spend $99 million from its own coffers on efforts such as assessing K-12 students and dispatching 3,000 reading coaches to them. Other states have targeted their aid, perhaps requiring individual remediation plans for at-risk readers, says Ilene M. Berman, program director for education division of the National Governors Association's Center for Best Practices.
Former West Virginia governor Bob Wise, president of the nonprofit Alliance for Excellent Education since early 2005, says he wants to see every state developing a literacy policy for its secondary schools. "We want to emphasize this is a continuum," he says. It's about time.
Carol Guensburg is a freelance journalist and former founding director of the Journalism Fellowships in Child and Family Policy. She lives in Arlington, Virginia.
This coverage was made possible in part by a grant from the Carnegie Corporation of New York.
Assessment
In 2002, the reading and writing assessments of the National Assessment of Educational Progress were administered to the nation's students in eighth and twelfth grades. The NAEP used the following achievement definitions (National Center for Education Statistics, 2003a, 2003b):
2002 Reading-Achievement Levels in Eighth and Twelfth Grades (percentage)
Below Basic -- Achievement that is less than partial mastery.

Basic -- Partial mastery of prerequisite knowledge and skills fundamental for proficient work at each grade.

Proficient -- Solid academic performance for each grade assessed. Students reaching this level have demonstrated competency over challenging subject matter, including subject-matter knowledge, application of such knowledge to real-world situations, and analytical skills appropriate to the subject matter.

Advanced -- Superior performance.