Assessment
Serious Gaming: Computer Games Become Potent Student Motivators and Evaluators
A new generation of video games sneaks into assessment tools.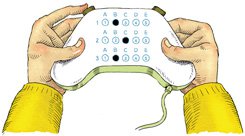 Credit: Wesley Bedrosian
Let's talk Serious Gaming. Not the kind you're going to see at a high-stakes poker tournament in Las Vegas, but rather something you'd find in the classroom.
Educational researchers are working with game manufacturers to create a new brand of "serious games" that have the potential to capture and stream the kind of important assessment data that educators can use comprehensively, from tracking individual student achievement to determining national educational trends.
The effort to bring such games into the classroom is a matter of educators playing catch-up with the "Net Gen," the digitally wired, Facebook-enabled generation of kids whose tech skills are miles ahead of their teachers' skills. Many of these programs look and work like video games, which may explain their potent ability to attract and motivate kids.
"We want to get kids to use the skill sets they have gained while playing computer games and apply them to learning," says Len Annetta, an assistant professor of science education at North Carolina State University and a leader in the Serious Game movement. Annetta and his team are working with colleagues at Harvard University, the University of California at Los Angeles, and other major universities to create educationally focused games. The National Science Foundation and other heavyweight educational grant makers are picking up the multimillion-dollar tabs.
Although the use of educational computer games in the classroom is not new, the ability to extract and pinpoint critical assessment data in real time is. At North Carolina State University's William & Ida Friday Institute for Educational Innovation, for example, work is under way on video games that measure students' scientific knowledge and research skills before, during, and after they participate in a science-related video game/test. Such games will give administrators the ability to assess teaching skills while affording educators a quick snapshot of student progress. Researchers and social scientists can also compile the data -- a process called data mining -- to assess larger educational trends.
If Cornelia Brunner has her way, kids will play in-school games on the Nintendo DS, an enabled Wi-Fi, dual-screen, handheld video game console. Brunner, deputy director of the Center for Children & Technology, a division of the Education Development Center, believes that the DS platform has the social-networking and shared-gaming capabilities that will enable teachers and their students to "put concepts and skills into the kind of meaningful narrative context that is close to real life." The outcome, she suggests, "can be a richer understanding of real problem solving" for both student learning and teacher assessments.
One example of a serious game for the gaming-enhanced classroom of the future is the River City Project, a multiuser virtual environment, or MUVE, developed by the Harvard Graduate School of Education for use in middle school science classrooms. In River City, students are transported back into a virtual nineteenth-century town in the midst of an undiagnosed epidemic. The game challenges students to use their knowledge and investigative skills to discover and test diagnoses and treatments. While students are in River City, teachers can prompt them, monitor them, and assess their strategies in real time. Along the way, students learn about community health, population growth, ecosystems, and the interdependence of organisms.
Ultimately, educators such as Annetta and Brunner view Serious Gaming in terms of how new content and teaching and assessment methods evolve for it. Annetta says that games such as River City "get students to solve problems in a dimension that simply cannot be matched by pencils, paper, and multiple-choice exams."
Richard Rapaport is a political and architectural writer who contributes regularly to Edutopia.