Project-Based Learning (PBL)
The Outdoor Classroom: Science Experiments in the Environment
Young children use technology to monitor an ecosystem's health.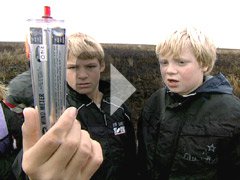 VIDEO: Learning Landscape: Kids Monitor Terrain With Tech
Running Time: 6 min.
Red Lake Falls is a tiny hamlet in northwestern Minnesota known more for its cattle farming than its public schools, but if the teachers at Hughes Elementary School have anything to say about it, that is about to change.
The teachers have embraced a technology program that enables students to leave the school grounds and get out into nature for their learning. Carrying portable laptop computers, temperature probes, measuring sticks, and sample-collection tools, students visit the Glacial Ridge four times a year to study how environmental-policy changes can restore natural beauty and wildlife.
The Nature Conservancy officially owns the Glacial Ridge -- an area that a half century of grazing and farming has environmentally destroyed. The group bought the land in order to restore it to its natural habitat, prairie wetlands. Students at Hughes got the unique opportunity to follow the Nature Conservancy's progress firsthand, and in the process, do their own testing and sampling. The result is a group of fourth, fifth, and sixth graders who not only enjoy doing science experiments in what they call their "outdoor classroom" but also have learned to appreciate their environment and the effect that humankind has on natural ecosystems.
Ken Ellis is executive producer ofEdutopia video.