Assessment
We the Youth: The Positive Side to Politics
Civics program inspires high school kids before and after graduation.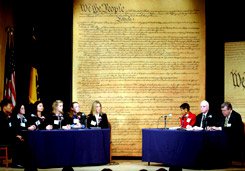 Credit: Courtesy of We The People
How many high school seniors do you know who, just months from graduation, consistently give up their Friday and Saturday nights to study? How about the teenager who considers John Locke's Two Treatises of Government essential bedtime reading? These are rare birds, to be sure, but they are common among participants in We the People: The Citizen and the Constitution, a program in which politics beget passion -- and some unusual priorities.
An advanced instructional program in the workings of the U.S. government that is class infused with competition, We the People was established by the Center for Civic Education in 1987; a grant from the U.S. Congress has funded it each year. It is one of the most rigorous civic-education programs out there, transforming what might otherwise seem drab -- textbook definitions of American democracy -- into a team-oriented, student-driven, high-stakes extravaganza.
Using materials provided by the Center for Civic Education, the students in We the People delve into constitutional government with the gusto of the Founding Fathers, preparing for the day when teams line up before a panel of judges to deliver speeches that they've written and memorized in response to a prompt given beforehand. They then endure a question-and-answer period in which they are grilled on their topic. Answers must address the question asked but should also demonstrate extensive knowledge of case law, current events, and, of course, the U.S. Constitution.
Sound dull? Hardly. Says participant Kristine Young, "I've never devoted myself so much to one thing in my life -- ever!" It's not just a feeder program for future lawyers and politicians, either. Indeed, its structure enhances many life skills that other curriculums can't touch. Participants master the art of working in teams, learn to think on their feet, stay cool under pressure, build water-tight arguments, and accumulate vast amounts of historical, constitutional, and political knowledge.
The experience also leads to a dramatic increase in civic participation among the program's alumni. Kari Coppinger, assistant director of the program, cites impressive statistics gathered thus far: In the 2000 election, voter turnout among We the People alumni was 80-82 percent, compared to 40-48 percent for the comparable general age group; in 2004, the difference was 92 percent to 70-78 percent. Alums also have become mayors, legislators, PhDs, and actively involved citizens -- inspired not just by the program's content but also by its rigor. As Young says,"You can do anything after that."
Sara Bernard is a former staff writer and multimedia producer for Edutopia.