Social & Emotional Learning (SEL)
Down on the Farm: These Vocational Educators Get It
One of the instructional strategies often supported on this site is project-based learning. PBL has been at the heart of vocational agriculture programs since the beginning. All vocational agriculture students participate in the Future Farmers of America's Supervised Agricultural Experience Programs, which consist of projects carried out individually or in groups.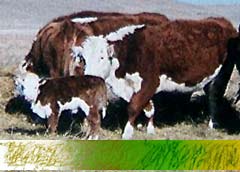 One such program is run by students at Ravenna High School, in Ravenna, Nebraska. Each year for the past thirty years, Ravenna students have contributed their labor and management in lieu of rent for an 80-acre tract of pastureland owned by the school district. Students do most of the maintenance, including weed and brush control and fence repair. They also borrow money, keep detailed spreadsheet records, and care for the cattle that graze in the pasture.
At the end of the project, the cattle are sold to other cattle producers and records are closed to determine the performance of the cattle and the amount of profit or loss. Some of the profits are returned to the school's FFA chapter to help fund its ongoing leadership-development activities.
In recent years, the students have used an electronic identification system to help them collect data as the project progresses. This system, coupled with a spreadsheet, helps them understand how technology can be applied to solve business problems.
In the process, students learn much about applied science through this real-world lab. They learn much about business, economics, and marketing when they buy cattle in the fall and track their expenses throughout the year. They learn other factors, such as nutrition and health care for livestock, as well as land stewardship when they control weeds and adjust their stocking rate during periods of drought. They also learn about oral communication when they prepare and present their annual report to the school board.
Few program graduates become farmers today, but the lessons learned are valuable for young people entering almost any field following graduation.
The question here is, could this model be used to teach everything our high school students need to learn? This type of project has been proven effective in vocational classrooms for many years. What would need to be changed in schools to implement this type of learning for all students? Please share your thoughts.