Real-Time Assessment: Providing a Window Into Student Learning
At Summit Prep, in Redwood City, California, every teacher gathers real-time data—daily. They do this to gain insight into their students' needs, informing how they teach every day. They use a variety of tools ranging from a free online personalized learning platform to Google surveys, paper assessments, and quick and easy formative assessments, like counting thumbs up and down.
Children are people, not data points—but can data help educators meet the needs of each student? 
At Summit Preparatory Charter High School in Redwood City, California, every teacher gathers real-time data—daily. They do this to gain insight into their students' needs, informing how they teach every day. They use a variety of tools ranging from a free online personalized learning platform to Google surveys, paper assessments, and quick and easy formative assessments, like counting thumbs up and down.
I remember my own high school experience. If I was ahead, I thought to myself, 'How am I going to kill 55 minutes?' And if I was behind, I felt overwhelmed, frustrated, and like I was wasting my time. Chris Kelly, Summit history teacher
Gathering real-time insights allows Summit teachers to differentiate instruction, give their students' choice in how they learn, and create scaffolds and extensions to meet their students' needs. It also helps them see how their students can support each other.
"There might be a peer who's doing really well on a cognitive skill," says Chris Kelly, a Summit history teacher. "Knowing that there are four other students who need support on that, I can create that relationship between these students on that given day."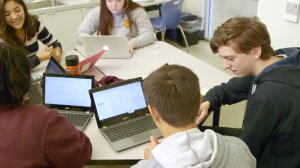 © Edutopia
Summit students work together.
Summit's Personalized Learning Platform
Cady Ching, a Summit biology and AP environmental science teacher, uses a handful of strategies to check in on her students' needs—including Summit's personalized learning platform (PLP). Summit's PLP (a free platform that comes with professional development tools and customizable, teacher-created, project-based curricula, including virtual textbooks, curated resources, and assessments) allows students to learn at their own pace, track their progress, and reflect on feedback. It also allows teachers to gather data on their students to help inform their instruction. 
"The great part about knowing our learners," says Penelope Pak McMillen, executive director of Summit, "is that the students get to know themselves as learners too. The data that we see is the data that they see."
Each day, their students know what they need to do, what resources they'll need, and what questions to ask their teachers to get extra help or additional challenges.
Get Started With Summit's PLP
Over 100 public schools are using the platform and resources through the national Summit Learning Program (formerly known as the Summit Basecamp program). Teachers can register for free, and grade level teams can apply (also free).
Ensure everyone is on board. As a team, watch one of the webinars. 
Schedule a 30-minute chat with Summit staff to better understand the program.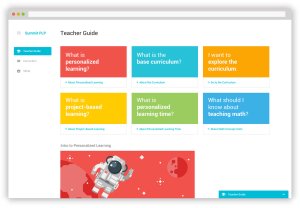 Summit Learning Program
Summit's PLP Teacher Guide
In-Class Assessments
53 Ways to Check for Understanding
Sometimes Ching differentiates her class using insights from Summit's PLP—but with 160 students, it's not always a realistic strategy. "A lot of times, I don't have time to do that," she says. "I am a huge advocate for teacher sustainability, and it can be challenging to go home and do that level of differentiation outside of my workday."
Summit teachers use a variety of in-class tools to assess and differentiate their classes:
Temperature checks, like thumbs up or down and fist to five fingers. Teachers ask questions like: How comfortable are you? How much did this workshop help you understand this skill? How much additional support will you need to show mastery of the skill?
Written assessments, like five- to 10-question content checks and cognitive skill quizzes
School Snapshot
Grades 9-12 | Redwood City, CA
Enrollment
388 | Charter, Suburban
Per Pupil Expenditures
$8917 School
•

$9658 District
Free / Reduced Lunch
47%
DEMOGRAPHICS:
60% Hispanic
25% White
6% Asian
3% Multiracial
2% Black
2% Filipino
1% Pacific Islander
Data is from the 2014-2015 academic year.
Creating Survey Questions
Before creating a survey, Ching recommends asking yourself four questions:
Why do I want students to take this survey?
How am I going to use the survey results to group students?
What is my plan for each group of students?
What check for understanding will follow that plan to ensure learning has happened in my classroom?
Ching uses surveys to assess cognitive skills. "Each survey is different, dependent on the language of the rubric," she explains.
For example, she has her students check their cognitive skills scores on Summit's PLP and asks them, "Which cognitive skill do you need the most support on? What can you do in class today to revise that skill score?"
We need to see real-time data on a daily basis to ensure that the way that we are spending our time as teachers is actually meeting the goals of all the kids that are in our classrooms. Penelope Pak McMillen, executive director of Summit
She also creates opt-in opportunities for her students based on survey results. By senior year, through Summit's personalized learning model, most students know their strengths and the areas where they need to grow. "Today, I'm going to offer a workshop on interpreting data and information," says Ching. "If a student knows that he or she is struggling with graphs and with analyzing data sets, then they should opt into this workshop so they can get this extra teacher support." 
For freshmen, differentiation is more intentional in terms of guiding students to the resources they need. "Developmentally, their perception of where they are is often misaligned to the teacher's assessment," Ching says.
Setting Up the Learning Environment
To help differentiate and arrange the classroom, Summit staff ask whether students want to work alone or in groups, whether they want to learn from a video or a debate, whether they need a mini lesson on a particular topic, and what they plan to work on that day—and whether they need extra help.
Kelly will often place his students in optimal learning environments based on their survey results. Students who want to work independently face the wall; students who want to collaborate work at designated tables; and students who need more direct instruction work in the center of the room with him.
"[Differentiation ensures that] all of the students' time is valuable, has purpose, and enables them to reach mastery," says Kelly. 
Why We Chose Summit Prep for Our Schools That Work Series
Summit Prep is a high-performing charter high school that leverages a personalized pedagogy and smart use of technology to help a largely underserved demographic achieve impressive results and success in college. With 68 percent minority enrollment and 41 percent eligibility for subsidized lunch, the school boasts a 95 percent graduation rate, which is 12 points higher than the national average for all students. And Summit Prep has a 99 percent four-year college acceptance rate.
In 2015, 58 percent of 11th-grade students in Summit's district, Sequoia Union, scored proficient or above on the Smarter Balanced Assessment for English language arts. At Summit Prep, 82 percent of students scored proficient or above on that test. Summit students similarly outperformed both Sequoia and the state of California on the Smarter Balanced Assessment for math in the same year.
Furthermore, the school has a replicable model of instruction, as evidenced by its continued expansion—there are now eight Summit schools in California and three in Washington, and more communities have requested that Summit open schools in their areas. And Summit makes its innovative personalized learning platform available to other schools for free.