Career-Themed High Schools
A whole-school focus on a specific profession helps make amazing partnerships possible.
Eighteen-year-old Melody Villar always thought she'd be a doctor, but volunteering at the University of Southern California's (USC) University Hospital changed her mind. "I learned I was scared of blood," admits the 2010 graduate of Francisco Bravo Medical Magnet High School, in Los Angeles. Now, she's focusing on liberal studies at California State University, Los Angeles. "I realized I wanted to work with kids instead."
Themed high schools can be charters, magnets, or traditionally governed. What they all have in common is an enrollment process open to all students in the district, usually by lottery, to ensure that schools like Bravo don't cream the crop (though it is true that, by dint of applying, students and their families may indicate a higher motivation and sophistication about making educational choices).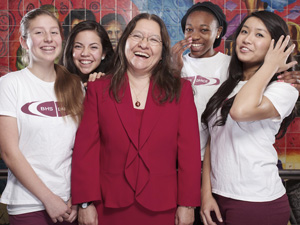 © Ethan Pines
María Torres-Flores, (in red) leads Bravo Medical Magnet High School in East Los Angeles where students graduate ready to enter a host of health-care professions.
Some 86 percent of Bravo students are entitled to free or reduced-price lunch and, academically, they run the gamut from special education to gifted students. Joseph Cocozza, who has a dual appointment working as a science educator both for Bravo and for UCS's Science, Technology, and Research Program, says they want at-risk students to apply. Bravo defines at-risk students as those who have learning potential but are unmotivated and need academic support. "It's not about being bright; it's about being enthusiastic," said Cocozza. "I believe firmly that if you can help students see where they can go, then you can motivate them to want to get there."
Career-themed high schools and career academies share many of the same principles and components.
Principles:
Everyone is a mentor: This is truly a process of one generation passing on its knowledge to the next. At Bravo, PhD students and professionals mentor current students in medical internships; recent Bravo graduates tutor at the school; and, in turn, current Bravo students mentor local elementary school kids. "Mentorship is critical in health and medicine," says Mark Humayun, the USC ophthalmology, biomedical engineering, and cell neurobiology professor who developed a prosthetic retina. "When you're forging and developing a new area in the field, it's really important to start early."
Flexibility for students: Just because Bravo is a medical magnet doesn't mean it expects all students to become doctors. The high school offers specialized programs of study in more than a dozen health sciences and related fields including engineering for health, science technology and research, and nursing and dental assisting. Although Bravo's principal, María Torres-Flores, wants all her students to attend college, their education also allows them to go directly into health professions or certification programs as dental hygienists, medical technicians, and phlebotomists.
Components:
A dedicated outreach professional: Joseph Cocozza has a dual appointment at Bravo and USC. He also conducts outreach to local elementary schools, bringing Bravo students to teach science to the younger kids.
Parent partnerships: Bravo offers parents bilingual evening classes that are taught by experts in the field of effective discipline and advocating for one's child. The school also expects parents to sign a pledge in which they agree to attend an orientation session and teacher-student conferences and to do their best to help their children succeed in school.
The essential extras: Bravo takes to heart the maxim about "all work and no play." The school has a highly regarded dance program. It also offers varsity and JV sports, drama, music, and dozens of clubs, from an Armenian student group to tae kwan do.
Francisco Bravo Medical Magnet High School
Los Angeles Unified School District
Number of Students: 1,850
Grades: 9-12
Year Started: 1981
Partnerships: L.A. County and USC Medical Center, USC Allied Health Services, Center for Craniofacial Molecular Biology, USC School of Pharmacy and Keck School of Medicine, Children's Hospital of Los Angeles, Keiro Nursing Home, UCLA Medical Plaza, and numerous dentists' offices and many other hospital opportunities
Where students go after graduation:
Four-year College: 49.8%
Community College: 56.9%
Military: 1.5%
Vocational School: 1.7%
Dropout Rate:
Bravo High School: 2.6%
LA Unified School District: 26.4%
Graduation Rate:
Bravo High School: 96.1%
LA Unified School District: 72.4%
Schools That Work
Public, Urban
Grades 9-12
Elk Grove and Los Angeles, CA