Professional Learning
Vacationland: What's Wrong With This Picture?
No question about it -- Maine is a wonderful place to live. A couple of weekends ago, my wife and I headed to Reid State Park early on a Sunday morning, arriving just as the ranger opened the gate on a day that was to feature -- in January, mind you -- absolutely crystal-clear skies, light winds, and temperatures in the 50s. The forty-five-minute drive from our home in Bowdoin to Georgetown was unhurried, with no traffic to speak of, and the open, empty beach, with unlimited ocean that greeted us on arrival, made it all so worth it. Ahhh, Maine!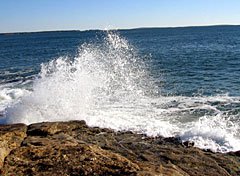 So, what might be wrong with this picture? The challenge, simply put, is that Maine has far too few high-paying jobs with benefits, and far too many low-paying jobs without benefits. Its nickname is Vacationland, and so common wisdom would decree that there will be higher demand for waiters and waitresses than there is for engineers and more of a demand for chambermaids than for chemists. This is why Seymour Papert, the visionary at the very root of the Maine Learning Technology Initiative, has long argued that we should change our nickname from Vacationland to the Thinking State.
You see, many folks come to Maine to get away from their work, to savor the slower pace, to create distance from the hurried world of 2007. Maine is the only state in the Lower 48 that borders only one other state (New Hampshire), and that physical isolation makes it easier to foster the laid-back vacation images while adding to the challenge of helping folks see Maine as a connected place to work and prosper in a twenty-first-century world -- a world that sees connectivity as a lifeblood of economics and the effective use of those connections as the muscle.
Through our delivery of one-to-one computing, iBooks, and wireless networks to Maine's seventh and eighth graders, and with plans under way to move all high schools forward as well, Maine has made a commitment to improving the opportunities for these kids to compete in the world. But it is in our focus on twenty-first-century skills, in concert with improving achievement in traditional curriculum topics, that some of the greatest changes are being made.
So, that got me wondering how "real" this twenty-first-century-skills things is around the United States. Sure, we've all read that the world is flat, and policy makers universally speak of the importance of the digital world, but what about in the real, on-the-ground classroom? What about in your school -- in your classroom?
Let me ask a couple of questions: Are twenty-first-century skills a topic of conversation in your school? Is this concept something you think about in your planning? Is it a phrase I could use in a staff meeting or in the teachers' room without eliciting confusion? What are the most effective integrations of twenty-first-century skills into school practice that you have seen, and is there evidence that such practices and projects are becoming widespread?
I look forward to hearing what people are seeing, and doing.