Social & Emotional Learning (SEL)
Up Front: Laughing Matters
Class clowns get no respect — but we think they should.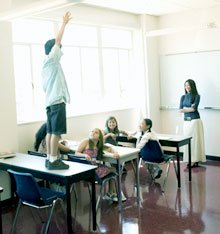 Credit: Getty Images
Let the truth be told: I was a class clown. My low crimes and misdemeanors in high school mostly took the form of puns. After many sobering decades as a grown-up, I can now admit to the lameness of much of my humor, though at the time my friends and I thought it was very funny. For instance, when Mr. Bobal, my history teacher, one of the memorably excellent educators I didn't deserve, asked why Theodore Roosevelt backed a bill unfriendly to chain stores, my hand shot up. "Was it because his family owned rope stores?" Mr. Bobal pointed to the door, sending me to the purgatory of the principal's office.
This is often the fate of class clowns. And when they're especially disruptive, that's probably unavoidable. Yet in life after school, comedians are admired, and the best (or luckiest) are richly rewarded. Surely, Jay Leno and Steve Martin were school jokers. My older brother, a cutup who made our family name radioactive among teachers I later had to deal with, became a comedic actor in movies and a television game show host, laughing all the way to the bank.
I chose the less lucrative path of trying to entertain fellow editors as deadlines loomed and words refused to flow. I suppose I may have been an annoyance to the most earnest of my coworkers at times, but I like to think that more often I've been a help. Some years ago, when I was working for a famous, very competitive editor who considered the success of her magazine akin to victory on D-day, she took me aside after a meeting and said, "I don't know what we'd do if you weren't here to get everyone to relax a little." I only wish Mr. Bobal could have heard that.
Which brings me -- all joking aside -- to my point. Or, rather, my question: What's to be done about class clowns? No one, I hope, will contend that laughter isn't an important part of the social equation. As we increasingly stress achievement in math, science, and English -- the better to satisfy the mandates of No Child Left Behind -- we also see studies that indicate emotional intelligence (of which humor is a key component) frequently plays a role in successful teamwork. Most groups, however important their purposes, depend on humor to lubricate the machinery of progress. I'm not talking about the people who push formulaic jokes on their fellow workers, but rather those who, at just the right moment, use wit to break an impasse, lift the moods of hard-pressed comrades, or simply remind everyone that the task at hand, important though it may be, is not the most crucial thing in the universe.
Though there's no doubt class clowns can be difficult to deal with, I'd put in a plea that they be viewed not as menaces to society but as people who simply agree with Oscar Wilde: Life is too serious to be taken seriously. They should be negotiated with, not sent to the stocks. Give a class clown a job -- maybe a funny blog about how things went this week -- and you might find yourself with a happier class and far less sass.
Owen Edwards
Consulting Editor
  *   *   *   *   *  
And now for some seriously good news. David Markus has joined Edutopia as our new editorial director. I've worked with David at American Photographer and at Parenting magazine, when, in the mid-1980s, I was that magazine's first editor in chief. He later became editor of Parenting, and under his guidance it earned recognition as one of the top publications for parents. David has since worked for Yahoo, ThriveOnline, and other successful Web sites. He has three children in public school, so he will bring not only a significant editorial background but also life experience to Edutopia.