Technology Integration
Twittering, Not Frittering: Professional Development in 140 Characters
Members of the education community microblog about what they're doing.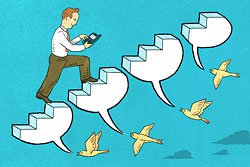 Credit: Wesley Bedrosian
As soon as the lunch bell rings at his elementary school in Medford, Oregon, teacher David Cosand takes a few minutes to scan his mobile phone screen for messages that have accumulated throughout the morning in his Twitter account. In a few well-chosen words, the people Cosand follows via this free online service share their latest news, resources, questions, and (sometimes) trivia about education, technology, and related topics.
Cosand became a Twitterer about a year ago, and he now considers Twitter one of his best sources of real-time professional development. "I'm able to get information and find opportunities I wouldn't have been able to gather on my own," he says.
Twitter is the most popular platform for microblogging, which combines the features of blogging, text messaging, and social networking. Since it launched in 2006, Twitter has attracted more than a million users, including a growing community of educators.
What's all the buzz about? Teachers who are fans say they appreciate the easy-to-use tool as a quick way to network with colleagues. They like being able to ask and answer questions, learn from experts, share resources, and react to events on the fly. But not everyone loves Twitter. Critics argue that it's nothing but a high tech distraction. Meanwhile, new ideas for using Twitter in education continue to emerge and evolve. The best way to weigh the pros and cons of this free tool is to try it yourself. (To learn how to sign up and start Twittering, see the sidebar, "How to Join the Twitter Conversation.")
Short, Sweet Tweets
The idea behind Twitter is elegantly simple: In no more than 140 characters (about a dozen words), you answer the question, "What are you doing?" You can log in and post tweets, or updates, from any computer or mobile device with Web access by visiting the site or through email, text messaging, or instant messaging. You can address messages to the whole Twitter universe, limit your audience to your personal network, or send a private message to specific individuals.
But that's only half the story. Users also choose whose updates they wish to follow. (To add someone, just click the Follow button under a user's Twitter name.) An automatic email lets them know you are a new follower, and it gives them the option of following you, too. You can also search for individuals by name, email address, or geographic location. And you can grow your connections by adding people others find interesting. This social-networking feature builds online communities among users who share similar interests.
Teacher David Cosand, for instance, follows high-profile edubloggers such as David Warlick and Wesley Fryer, regulars on the conference circuit who share their insights from afar via Twitter. "I'm here for the learning revolution," reads Fryer's one-sentence Twitter bio.
"They are so connected. It's neat to be able to piggyback on that," Cosand says. "Through them, my world is expanding greatly." The Oregon teacher says most of his local colleagues don't share his passion for digital tools. But within his far-flung Twitter network, ed tech is the common denominator and the primary focus of conversation.
A high number of followers indicates a degree of stardom in the Twitterverse. Georgia teacher Vicki Davis, well known for her Cool Cat Teacher Blog, has 2,000-plus followers on Twitter, and she describes it as a way to "connect and energize" previously isolated educators, herself included.
What are they all atwitter about? Teachers, principals, and others in the education world typically share links for noteworthy news, or they point to their own new blog posts. They plug real-time events, inviting participants to join online conversations or Webcasts that are just about to start. Twitter also gets heavy use during education conferences. Tweets provide a lively back channel during official presentations, without the noise of passing paper notes. It's not all serious, of course -- even in education circles, Twitterers trade family tidbits, travel updates, and occasional gripes.
Winning Skeptics Over
Some people, though, are turned off by the personal chatter. Howard Levin, director of technology at San Francisco's Urban School, tried using Twitter briefly but says he was frustrated by "all the completely irrelevant personal information people post. I have no patience for reading about what someone is barbecuing." But he hasn't given up on it completely. "I think it has great potential if people use it to track inputs around specific topics -- say, educators in a Twitter group who share tidbits from ed-tech books they are reading, talk about great purchase deals, or even do simple tech Q&A."
Despite the many possibilities for communicating, Scott Walker, a high school arts and humanities teacher in rural Kentucky, says he was slow to warm up to Twitter. "When I first heard about it, I shook my head and thought, 'Who would ever use that?' It seemed like such a silly thing." But he decided to give it a whirl and posted his first question: "How do you see using Twitter in education?" Answers came right back from several people he had never met. Their suggestions included using Twitter as an emergency-response system, to publish school announcements, and to post ideas for enrichment activities after school. Getting fast feedback from people with diverse perspectives appealed to Walker. "It was kind of neat," he says.
Now, Walker regularly uses Twitter as a research tool. A third-year teacher, he describes himself as "the unofficial go-to guy for technology questions" at his school. He started writing the TeacherTechBlog in September 2007 as a way to share his technology tips with a wider audience than he could reach in one-on-one conversations. "When I'm working on a new post, I'll throw a question out on Twitter and ask people about their experience," he explains. "I get insights from other teachers in the field who are using these tools. It's professional development for me, no doubt."
Time-Saving Tool
Although some people argue that Twitter is one more distraction in a tech-saturated world, David Cosand says it's been a time-saver for him. He was writing a grant proposal recently to buy more technology for his school and realized he needed to learn more about document cameras. "I put a tweet out asking people which cameras they have found useful. In half an hour, I got great feedback from all over the country," he says, and he wound up narrowing down the list to an AVerVision CP300 model.
Future uses for Twitter in education are limited only by users' imaginations -- and that 140-character limit. Recently, blogger Will Richardson set off a robust discussion with his post "What I Hate About Twitter." His beef? Disjointed conversations. But the hundred-plus replies to his post show the myriad ways educators are harnessing these sound bites for their own learning needs. Ideas include Twittering while planning lessons, for book-group discussions, or simply to connect with colleagues. Some are also thinking about how to use Twitter with students -- but that's another conversation.
According to Cosand, using Twitter for professional development is a good model for twenty-first-century learning. He's found it especially useful for learning how to integrate podcasting, blogs, wikis, and other tools in his classroom. And if he runs into a challenge, he knows right where to turn for help. "I can watch and learn from people who jump out and try things early," he says. "Once I gather information from observing, then I'm ready to apply it myself in my situation. Watch, observe, apply. It's been great."
Suzie Boss, a journalist who lives in Portland, Oregon, is coauthor of Reinventing Project-Based Learning: Your Field Guide to Real-World Projects in the Digital Age. She also blogs for Edutopia.org.
How to Join the Twitter Conversation
You can lurk on Twitter without signing up, but to post your own updates and choose whose news you want to follow, you need to set up a free account.
Get started at the Twitter home page. To join, you need to provide an email address and choose a user name and a password.
Once you are signed in, click on Settings. Create a profile other users will see when they click on your name. Add a photo or another image if you like.
Add your own updates. Use the text box at the top of the screen to answer the question "What are you doing?" Answer in no more than 140 characters. Your most recent update will appear at the top of your page.
Choose some people to follow. Use the search field at the top of the page to search by name or location. Or click on Find and Follow to look for people by email address. To add a person you want to follow, click on that person's name. Then click the Follow button that appears under his or her image. You will receive automatic updates from all the people you follow. (They get to decide whether they want to follow you.)
Twitter away. You can add and receive updates from your computer or via instant messaging or text messaging.