Social & Emotional Learning (SEL)
Helping Kids Recover from Trauma
Schools can foster resilience by focusing on more than just grades.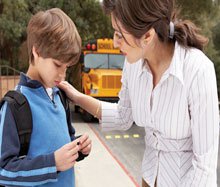 Credit: Getty Images
Resilience, that ability to triumph over trouble so critical to a child's success in school and long after, has always been a bit of a mystery. Some people seem to possess it in spades, emerging from life's setbacks all the stronger, while others wilt in the face of minor hurdles.
It's easy to dismiss these striking differences as simply a matter of individual personality. But research is increasingly concluding that resilience is not so much something that's written in the stars -- or exclusively in one's genes -- as it is a quality that can be fostered by supportive factors on the ground, including a school that offers ways for all students to thrive.
In recent decades, "people have begun to ask questions not just about the psychology behind resilience but also about the external conditions that are likely to create positive reactions under stress," says Michael Ungar, a professor of social work at Dalhousie University, in Halifax, Nova Scotia, and head of the school's Resilience Research Centre. Ungar, who has identified seven factors key to resilience, explains, "If children are not getting this stuff at home, school becomes much more important."
But how? For all the ambiguity that seems to surround the issue, most who have studied resilience in depth have reached a general agreement on how it is fostered. External supports, including a stable home, a stable school environment, and role models are basic contributing factors. To that mix, add internal supports, such as a sense of being lovable, a sense of hope, and self-esteem, plus some positive interpersonal skills like creativity, persistence, and a sense of humor.
The Identity Factor
The picture gets more complicated when you consider that even the most advantaged children usually don't have all these benefits, and children who have suffered the most hardship are often lacking many of them from the outset. The challenge for these kids and their teachers is how to work with what you have.
For example, Ungar includes a strong sense of personal identity on his list of key factors creating resilience. This trait gives a person the power to stand up to unhealthy group influences, such as a home where everyone abuses alcohol. When a child's personal identity is strong enough, it may help him rise above a home where he faces such challenges.
Likewise, researchers say, because the need to be resilient often grows out of an abusive, impoverished, or otherwise troubled home environment, other communities -- such as schools -- are critical in fostering the sense of self and worth that will help children pick themselves up and carry on.
"Your family may crumble, but you can still have a sense of identity, confidence, responsibility, and belonging to a larger group," explains William Coleman, professor of developmental behavioral pediatrics at the Center for Development and Learning, at the University of North Carolina at Chapel Hill.
Teachers can make a positive contribution in countless ways by giving students diverse opportunities to succeed. But Coleman says there is a more finite list of practices to avoid when working with challenged students. He sighs when recalling a teenage girl he recently encountered who, along with other behavioral problems, was reading well below her age level. Her school responded by putting her in a class that was studying Shakespeare.
Such trial-by-fire efforts to force a student to get up to speed may be well intentioned but are likely to do more harm than good. "When children are asked to respond to academic and social situations that are above their developmental abilities, they often get anxious. The child may lose his place," Coleman says. He believes that sort of anxiety may even lead to a misdiagnosis of attention deficit disorder or another learning disability, when the problem is really just a lack of confidence.
Confidence Before Performance
Carmel Cefai, professor of psychology at the University of Malta and author of the book Promoting Resilience in the Classroom, draws a clear distinction between learning and performance at school. "Many schools promote an exclusive focus on individual achievement at the expense of other aspects of children's development," he says. Because researchers believe that confidence is a key part of resilience, they say trying to make a poor reader master Shakespeare probably won't nurture that student's ability to bounce back. And in the proverbial school of life, bouncing back is likely to be more important than quoting from Romeo and Juliet.
In fact, one of the common themes of resilience research is that schools can err by putting too much emphasis on grades and test scores. The critical point to remember when considering how to promote resilience, says Ungar, is that the students who need this skill most are often the ones who are not performing well academically. The challenge, then, becomes finding opportunities for those students to have a positive school experience, despite poor grades. "Focusing too much on test scores can reinforce the identity of the discarded child," Ungar explains.
If this approach sounds like a daunting challenge for already overworked teachers whose first order of business, after all, is teaching academics, Ungar says he's encouraged by some of the inventive programs he's encountered in U.S. and Canadian schools. Some schools have programs for older children to mentor the younger ones. "Even a kid who can't read well can still help a four-year-old learn his colors," he says.
Ungar also describes one Canadian school that put some of its "academically vulnerable" students to work building garden sheds, which were then sold at a school fundraiser for $1,000 each. "Here were these vulnerable learners who were able to do more for the school's fundraising than any of its top students," he said. "It was a valuable lesson, and it gave them a powerful identity."
It may also be a lesson that comes with a built-in dilemma for teachers: How do you gently nurture struggling learners while offering advanced ones a rigorous course of study? It's an old and controversial debate, but many of those on the forefront of resilience research believe in segmenting students by skill, at least part of the time.
The DNA of Resilience
As new findings about the human genome increasingly link all sorts of physical and behavioral qualities to an individual's DNA, many researchers do believe that some people are genetically predisposed to be resilient.
In a 2007 study of mice, researchers from the University of Texas, Harvard, and Cornell found that "the ability to adapt to stress is driven by a distinctly different molecular mechanism than is the tendency to be overwhelmed by stress."
Yet most researchers devoted to finding practical ways to promote resilience are not focused too much on the genetic component. Not only is any conclusive research in humans a long way off, they say, it will never be able to definitively explain resilience.
Ungar points out the importance of environment by using the example of a starving population in a famine-stricken land. The ones who survive, he says, are not the ones who have a gene for survival, but the lucky ones, who receive outside help and are given food.
"To say that resilience is something that just wells up inside a child is not accurate," says Ungar. "Kids do have their own temperaments, but they have to be activated."
Andrea Orr is a freelance writer in Washington, DC.