Professional Learning
Trail Mix: Teachers and Politics
Camp Wellstone provides a rapid introduction to political campaigning.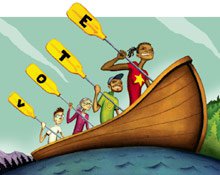 Credit: Hugh D'Andrade
Consider the many roles the average teacher plays: instructor, psychologist, disciplinarian, surrogate parent. It's time to add one more -- political organizer.
Educators can get politically active when their jobs are on the line. But this sort of political success, whether in defeating a proposition, passing a bond, or running for office, does not come easy. It involves a bit of skill and a whole lot of know-how.
Time for a trip to Camp Wellstone.
Don't expect songs and 'smores; Camp Wellstone is an intensive weekend of political training created by Wellstone Action, a leadership-development organization named after the late U.S. Senator Paul Wellstone and his wife, Sheila.
Pam Costain, Wellstone Action's director of education and training, says the most critical part of the instruction is in helping budding politicos turn a great idea into real political change. Hands-on workshops at the two-and-a-half-day sessions emphasize the need to both articulate issues and manage campaigns, and teams role-play giving speeches and interacting with voters.
More than 9,000 trainees in twenty-eight states have gone through the two-year-old program. For $75 per person, or $35 for students and low-income participants, attendees pay a small price for training that is key to winning on issues such as saving fair teacher-tenure policies.
"You can't learn everything about politics in a weekend," admits attendee Stan Berris. But Camp Wellstone appears to be a good start: All three new members elected to the Hopkins, Minnesota, school district board this fall -- including an elated Berris -- were Camp Wellstone grads.
Sara Bernard is a former staff writer and multimedia producer for Edutopia.