Technology Integration
How to Keep School Laptops Safe
Four tips for protecting portable computers from loss and theft.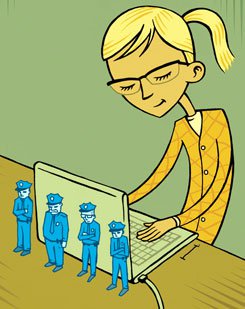 Credit: Hugh D'Andrade
As one-laptop-per-student initiatives catch on in public schools nationwide, the need for better security is more pressing than ever. That's because as portable computers proliferate in our classrooms, so do loss and theft.
Memphis City Schools, for example, is beefing up its laptop-security policies after nearly 1,800 machines -- close to 1 in 4 -- were lost, stolen, or destroyed within the span of four months. The district was fairly fortunate: Vendor insurance covered the cost of the laptops, which were leased. But the schools were not reimbursed for software installed on some systems.
Not everyone is this lucky. According to the market research firm Compass Intelligence, K-12 schools invested some $243 million in laptops in 2008, which includes hundreds of thousands of dollars spent to replace equipment that went missing. That investment could spell big losses for many cash-strapped school districts. And some stolen goods can never be replaced: student work that wasn't backed up, for instance, and lesson plans and grades on a teacher's laptop.
Fortunately, schools can take steps to protect their hardware and intellectual assets. Edutopia consulted security experts, district managers, and IT coordinators, who provided the following tips for keeping laptops safe.
Mark your Property
At Putnam Valley Central School District, in Putnam Valley, New York, a student's claim of "I lost my laptop" could have meant "I just sold my laptop to some guy on the street for $500," says Michael Lee, network administrator and chief information officer. The district put an end to such thefts by laser etching the front cover of each of its 1,700 MacBooks with "Property of Putnam Valley Central Schools" in bold letters. "Since implementing that, we haven't lost a single laptop," Lee says.
The laser etcher cost the district $9,000, or the price of just six laptops. The district does the etching during the summer months, using equipment purchased from Epilog Laser. "It takes only two minutes," Lee says. "We just place the laptop onto the etching tray and press a button."
Purchase an Insurance Policy
The San Diego Unified School District issues every student in its new iHigh Virtual Academy a laptop for home use. To keep thefts and recovery costs down, the district purchases insurance through Safeware, which secures computer systems the district loans to students.
"It ranges as low as $20 per machine per year," says Darryl LaGace, the district's chief information and technology officer. His district pays about $32 per laptop for a policy that covers burglary, theft, vandalism, and certain kinds of damage. Students are forgiven unintentional damage, but after that, anyone who receives another laptop must pay part or all of the retail cost if a computer gets lost or stolen.
Install a LoJack for Laptops
Just like the LoJack antitheft system, which tracks down stolen cars, there's a device called Computrace, which IT administrators can install on laptops. A hidden transmitter pinpoints the location of the computer. Since the Orange County Public Schools, in Orlando, Florida, installed Computrace on its 26,000 computers, the school district has recovered a third of some 70 stolen laptops.
"We wanted software that could track down laptops within a guaranteed time frame of 60 days," says Tom McNabb, the district's assistant director of device management. A bonus in installing tracking software on laptops is that schools often recover other stolen equipment, such as overhead projectors and DVD players, at the same time.
Control the Contents
Before assigning laptops to kids, IT staff should install a program like Deep Freeze, which prevents students from permanently installing their own software -- and requires storing files on a separate hard drive, such as a school server. Other applications, such as Bit9, allow students to run certain software, while blocking programs like iTunes and screensavers.
The inability to save unsanctioned content is a constant reminder that the laptop is someone else's property. It also deters theft, because who wants a laptop that can't be customized? Limiting outside content has a few other fringe benefits: It keeps the laptops' operating systems running smoothly because it bars memory-hogging applications, video files, and more. And it saves the work of erasing hard drives when transferring laptops from student to student.
Leave No Option Unturned
What's suitable for one district may not work for another, and educators should not rely on a single measure to prevent loss and theft. "There is no silver bullet when it comes to securing laptop data," says Dan Yost, chief technology officer for Tri-8, which sells MyLaptopGPS. "Districts should never rely on a single feature."
Tamar Snyder is a writer in New York City who specializes in education, personal finance, and careers.