Social & Emotional Learning (SEL)
Dealing with Pregnant Teens Is a Balancing Act for Schools
How adults can help students juggle pregnancy, parenthood, and school.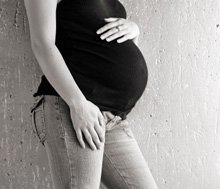 Credit: istockPhoto
When social worker Beth Creech learns that a girl is pregnant at one of the Hillsborough, North Carolina, schools where she works, she quickly connects that student with a countywide social group where she can meet pregnant peers. That way, the girl can attend lectures on budgeting, get advice on avoiding a second pregnancy, or just visit an amusement park. "They are still teens," reasons Creech. "We want them to have some fun."
Fun field trips are probably not what most schools turn to when faced with a student's pregnancy, but most schools have no one like Creech. Employed by the county, she works in three Hillsborough schools -- two high schools and one middle school -- to provide intensive services to pregnant and parenting students to help them finish school without having additional children.
As a social worker, Creech tackles different struggles than the medical concerns a school nurse may deal with or the academic issues a guidance counselor will raise. Understanding that socializing and the more serious business of keeping these students in school go hand in hand, she works to mix the two. "Pregnancy can be pretty isolating," she says. "It helps if they have a social network."
If recent trends continue, more schools may have to consider supplementing existing pregnancy-prevention programs with services like the one Creech oversees. A 2008 report from the Federal Interagency Forum on Child and Family Statistics on the well-being of American children finds that from 2005 to 2006, the teen-pregnancy rate increased for the first time in 15 years -- rising from 21 to 22 births per 1,000 girls ages 15-17. (Download a PDF of the report.)
Meanwhile, the news and pop culture have become saturated with stories of teen pregnancies. From the celebrated film Juno to a pregnancy boom at Gloucester High School, in Gloucester, Massachusetts (where 17 girls confessed to making a pact to become pregnant together), plus the high-profile pregnancies of 16-year-old actress Jamie Lynn Spears and 17-year-old Bristol Palin, daughter of Alaska governor Sarah Palin, a more accepting attitude seems to be replacing an old taboo, and students are not immune to the cultural shift.
But unlike as with pregnancy prevention, widely taught as an important part of comprehensive sex education, there are no standard practices for schools dealing with the reality of pregnant and parenting teens. Although Sidney Lanier High School, in San Antonio, Texas, for instance, finds that more than 25 girls among its 1,400 students are pregnant at any given time and has an established program connecting teen parents with free day care, teen pregnancy remains an aberration in many other communities.
Schools accustomed to working with pregnant students, however, warn against providing so much special treatment that it looks like they are condoning teen pregnancy or even celebrating it.
Carolyn Sheehan, director of the Blackstone Academy Charter School, in Pawtucket, Rhode Island, says her school offers home tutoring and online classes to its pregnant and parenting students, but it has also had to adopt a policy of no baby showers at school. "There is a fine line between not ostracizing a pregnant student, and not making pregnancy look like an acceptable outcome," she explains.
Schools that have experience with teen pregnancy also caution against letting students drop off the radar screen after they give birth. Although pregnancy is a medical condition requiring schools to provide tutoring to those who can't get to class, the situation can become murkier after delivery. These new parents are likely to be more challenged than ever to get to class, so the school may need to do more follow-up and outreach to keep them from slipping through the cracks.
Theresa Lewallen, director of healthy school communities at the Association for Supervision and Curriculum Development, suggests that the first order of business for every school dealing with student pregnancy is to promote an open conversation between students and staff, where no topic is off limits or too trivial. Weight gain, for example, might seem like a superficial concern to a teen who needs money for diapers, but at an age where social concerns get mixed up with serious responsibilities, experts say some young mothers drop out of school simply because they feel unattractive.
Blackstone, a charter school founded on the premise of strong student-teacher communications, encourages students who do have children to go to a teacher with their concerns and fears before they drop out.
It's a balancing act for school staff. Sarah Leibel, who teaches English and sex education at Blackstone, says that though she's always there to talk to her students, she endeavors not to cut them too much slack academically -- and that students appreciate being held to strict standards.
Leibel also tries to reinforce a sense of self-worth in teens who have children. To that end, she says, she goes beyond the obvious question of how the teens will support their children to ask what dreams they still have for themselves.
Andrea Orr is a freelance writer in San Francisco.