Technology Integration
White-Hat Whiz Kid: A Digital-Age Teen Talks Tech Turkey
Dylan Field discusses his vision of technology for the next generation.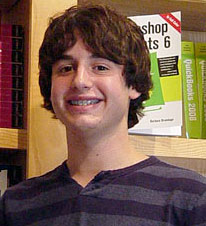 Credit: Molly Jackel
Tech Talk: High school senior Dylan Field is a white-hat hacker and a spokesperson for teens that use technology today.
Edutopia spoke with tech-savvy teen Dylan Field at the northern California offices of O'Reilly Media, where Field is working as a student intern. O'Reilly Media, set among the apple orchards and vineyards of a small wine-country town, is a publisher of popular manuals for software developers.
Field is a polite, articulate, mop-topped senior at Technology High School, in Rohnert Park, California. Through his recent public relations work at O'Reilly for Hackerteen, a young-adult graphic novel about computer hacking, he has become somewhat of a technology spokesperson for his generation. Here's what he has to say about technology in the classroom, safety on the Internet, netiquette, and technology's future.
Tell me about your school.
I go to Technology High, in Rohnert Park, on the Sonoma State University campus. It's a public high school with a focus on math, science, and technology. The belief is that you can make the curriculum more interesting to the students and more applicable to real life by integrating technology.
Are there things you wish your teachers knew that they don't know?
They should be aware of the school's Internet-content-filtering software. A lot of times, teachers tell us to do an assignment, but they're not aware that the Children's Internet Protection Act blocks a lot of the resources on the Internet. For instance, CIPA blocks all blogs. That's a huge source of information. It also blocks all videos. Take YouTube, for instance. Is there a lot of potential for goofing off on the site? Yes. But is there also educational material? Yes.
Another thing is that instead of making it an us-against-them thing, teachers should trust students and integrate them into the process. Teachers should have kids help out and do tasks with the network, rather than tell them to get away from the network.
If a teacher tells students to get away from the network, then they are going to push right back; every force has an equal and opposite reaction. But if a teacher says, "Help me out," the students will learn a skill that may be useful in their future job. It will also be less work for the IT people. Let's say the server needs to be reset. Either a student at the school can do it, or an IT person will have to drive 30 miles to do it.
Are you a hacker?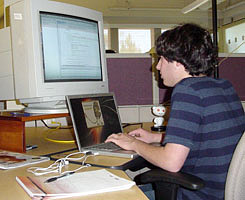 Credit: Molly Jackel
At Work: Field interns at software-manual publisher O'Reilly Media.
I don't consider myself a hacker. Hacker has a lot of different connotations. The term developed at MIT in the early '70s, and back then it meant anyone who has an interesting or clever solution to a problem. Over the years, the media adopted it as their pet term for people who are breaking into the Internet and doing malicious things. People in the security community, who use the term that way, divide hackers into two classes: white-hat hackers and black-hat hackers. White hats explore, look around, and report vulnerabilities. Black hats exploit the vulnerabilities for malicious purposes.
I would never do anything malicious. But I have been known to look around. Freshman year, I found a vulnerability in our network that disclosed a lot of information for two of our middle schools, including names and phone numbers. It was definitely sensitive information. I also found a way to get into many user accounts. But for a teen, it's whom you turn to when you discover something like that that's important.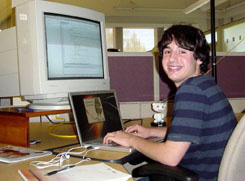 Credit: Molly Jackel
What did you do?
I didn't do anything. I didn't tell anybody, because I didn't want to get in trouble. But I also didn't tell any of my classmates, because I wanted to make sure the information didn't get around. I just hoped the IT people would figure it out and fix the problem.
What do you think is the best way to discourage hacking?
There are interesting things to be learned about Internet security, and I don't think we should discourage people from learning about the subject just because they could use that knowledge in bad ways. It's kind of like the gun debate: Here's a tool. Should we learn how to use that tool so we can defend against people who want to use it maliciously, or should we just not learn about it?
What kind of Net etiquette have you learned?
Just like in real life, if someone's annoying you or making fun of you online, the way to avoid that is to ignore them -- the same thing you learn in kindergarten. The same rules apply to the online space as anywhere else: Be polite. Treat others the way you want to be treated. Follow the Golden Rule. If you don't want to be yelled at online, don't yell. If you're polite in real life, I don't see why you wouldn't be online.
You seem very wise for your age.
Thank you.
What are your thoughts on Web privacy and safety for kids on the Internet?
If you don't want something out there, don't put it in writing. That's something people just need to know. Once you put it in writing, it's going to follow you your entire life on the Web. One Google search of your name will show everything you've written attached to your name.
One thing I find really interesting is the research of danah boyd, a PhD candidate at the University of California at Berkeley. She's researching how teens use technology. A few years ago, she blogged about my parents' generation. She said that when my parents were kids, their parents told them, "Be home before dinner, and you can do whatever you want in the meantime." That's definitely not the case anymore, and that's just a cultural thing.
But kids still need a place to hang out, and teens definitely still need a space to hang out. That space has generally moved online. That hangout space has become an online space instead of a physical one.
What is your Internet diet?
Pretty much the same as any teen, except I read a lot more RSS feeds than anybody else. I use MySpace, Facebook, and instant messaging (IM), and I just started using Twitter. I read a lot of blog posts, news sites, Digg, and reddit. Most of my friends -- pretty much all teens -- use IM and social-networking sites.
But it's hard, because there's so much on the Web that you have to sort through the noise to get the signal. There's a big signal-to-noise ratio, so I try to make that ratio as good as it can get. But it's still hard to do that. If you go to a blog and someone has a really good essay but the rest of their entries are on topics that don't interest you, that's noise to me, but the signal is that great essay.
For example, when you're trying to get a wireless signal or radio signal, there's a signal-to-noise ratio. It's the same thing when it comes to information. Getting the things that you want to hear and that are important to you is hard to do because there's so much out there. You have to process enough to get the stuff that's important.
What do you think is the future of technology?
As far as the Internet goes, I think we're going to start seeing the Web as a platform. This means the emergence of rich Internet applications, or RIAs. Rich Internet applications run in your browser but still have all the functionality of a desktop application. However, unlike as with a desktop application, you don't have to install RIAs on your computer, and you can transfer them to anywhere you have data.
A prime example of this is Google Docs. Google took the Microsoft Office suite, stripped it of some of its more powerful features, and put it up for free on the Web. After logging in with your Google account, you can open, edit, and save any document in your browser. If you want to access that document again later, you can do so from any computer connected to the Internet.
In relation to the Internet as a platform, my prediction is -- or at least my hope is -- we'll start seeing the walls of the social-networking sites break down. There's a huge movement to have open IDs and more flow of information. Facebook Connect and the MySpace Data Platform are both services that make it so you can access the social grid on these Web sites and start integrating their content into applications you build.
So, I think you're going to start seeing the emergence of more mobile technology. We've got two great technologies now in the United States, the iPhone and the soon-to-come-out Android platform from Google. It's going to launch in the fourth quarter of this year on their first hardware phones. Soon, the Internet is always going to be in your pocket.
Finally, the biggest thing in technology, and the challenge for my generation, is going green. I'm going to be driving soon, and I watch the gas prices going up every day. I don't know if I'm going to be able to afford to drive! Governor Schwarzenegger recently signed a deal with Tesla Motors. It's an incentive of millions of dollars for them to develop their electric-car plant in California. We're going to start seeing more alternative technologies and ways to improve the environment, because people really are getting it now. Who knows what the time frame on these new technologies will be, but it's going to happen in my time.
Molly Jackel is a freelance writer and editor in Sebastopol, California.