Professional Learning
Tech Teacher: Cut Through the Web Noise
RSS feeds help sort out the new from the mold.
One problem with the Web: It's too darn big. Who has time to keep up with its immeasureable updates? You could spend all day trolling around online, looking for the freshest headlines and content on your favorite sites. Wouldn't it be nice if there were a way of gathering all the new things on frequently updated sites (like blogs, news feeds, or podcasts) and sending them out to you?
Hang onto your cowboy hat, because that's where Real Simple Syndication (RSS) comes in. Odds are you've seen the little orange button with either the letters RSS or XML, or sometimes a little radar-looking symbol, on at least one of your favorite Web sites. The button means that the Web site offers its content as an RSS "feed," which is simply a list of new articles, usually with just a title and a short description. The little button is a link to that feed. Subscribe to these feeds and these sites will get in contact with you electronically when they offer new content.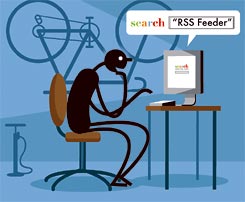 First, you need an RSS reader program, which will take the feed and make it easy to read. Dozens exist for every platform. Enter "RSS Feeder" into your favorite search engine and try some out.
Then, find a site that offers a feed you find interesting and get ready to subscribe. Right-click on the orange button and select "Copy Short-cut." (Mac users: Control-click and select "Copy Link.") Open your RSS reader program and select "New Subscription." Paste the link into the subscription field and press Enter.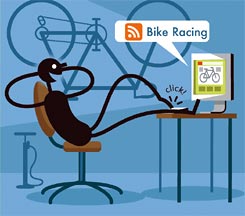 Your reader program follows that link and downloads a fresh list of new story topics. Click on the story link and your Web browser opens the full article. Subscribe to multiple sites and your reader program will check each one for new content whenever you want!
One caveat: If you're using an older Web browser like Internet Explorer 6, and you click on that RSS link, you may see a page full of ghastly code instead of a nicely formatted list. That's because RSS is actually a different kind of information than the browser is used to seeing. Older browsers just don't understand RSS, which brings us to the RSS reader.
The real beauty of feeds is that they can be used in many ways and are not just limted to RSS readers. Many Web sites these days -- Google.com and Yahoo.com, for example -- allow registered users to create custom home pages using feeds. By using RSS, users get more control over what they see and when, and save themselves time as well.
What It Requires
Cost
RSS reader software: free-$50
Time to set up
Geoff Butterfield is senior technical Web producer for Edutopia.