Professional Learning
Educators Market Lesson Plans Online
A Web site enables teachers to sell curriculum materials they've created.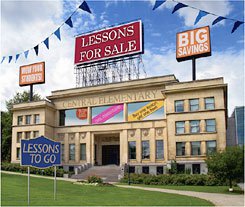 Credit: William Duke
Need to teach a class on Death of a Salesman? Or perhaps you've created a lesson on the Industrial Revolution that wows your students. You're in luck.
A new cottage industry for time-pressed teachers has flowered, one in which classroom lessons are the coin of the realm. Earlier this year, for instance, a new Web site called TeachersPayTeachers.com -- essentially an eBay for educators -- was launched. For a $29.95 yearly fee, sellers can post their work and set their prices. Buyers rate the products.
Many sites offer lesson plans that can be purchased or downloaded free, but they don't tap into the tens of thousands of lessons teachers develop each year. TeachersPayTeachers.com helps buyers quickly find relevant content that can be adapted for their classrooms. On the flip side, sellers earn some extra money for their work. Many of the lessons go for only a few dollars. Some are free.
The Houston Independent School District (HISD) is doing this on a grander sale, marketing and selling a comprehensive curriculum it designed nearly a decade ago. The district's Clarifying Learning to Enhance Achievement Results program was designed to help Houston teachers better understand and use Texas's educational standards. After spending three years and more than $10 million on CLEAR, the district noticed that many administrators across the state were requesting it. A typical cash-crunched school district, it started to ask for compensation.
Districts, which pay a base fee on a sliding scale determined by total enrollment, can purchase the entire sixty-nine-unit curriculum or pick and choose individual units. In addition to the fee, they are charged a price per student per unit; a unit ranges from $250 to $4,000 depending on the district's size. (Larger districts pay less.)
Though some might argue that schools should be sharing ideas, not selling them, the Houston school district is hard-pressed to find any critics. "Many districts don't have the resources that a large district like the HISD has," explains Johanna Lockhart, manager of its marketing and business-development department. Purchasing a premade, field-tested curriculum saves schools time and money, she adds, noting that the process of developing a similar curriculum could take years and cost millions.
Fourteen school systems, including several located outside Texas, have purchased CLEAR. Though the curriculum was designed with that state's schools in mind, districts across the nation can still appreciate its benefits.
So far, so good: Between 2002, when it began marketing the curriculum, and 2005, CLEAR earned the HISD $1.5 million in sales. "People usually see school districts as just taking money," Lockhart says. "But in Houston, we're earning it."
Get Started
For more information about CLEAR and the marketing department at the Houston Independent School District, visit www.houstonisd.org or call 1-800/319-0704.
Interested in buying or selling lectures and self-designed curricula on an individual basis? Visit www.teacherspayteachers.com, where you'll find an online marketplace, launched in April 2006, for educators.