Professional Learning
Teacher-Tested Travel Grants
Educators enrich their profession with globe-trotting experience — and get funding to do it.
Teachers who travel bring back to their classrooms all of the experiences they had and passions they felt to inspire students and make global content come alive. By applying for grants, teachers can get these unique globe-trotting learning opportunities partially or fully funded. Edutopia has gathered stories and snapshots from teachers who have received such grants to travel.
Happy trails!
At Manzanita Community School, in Oakland, California, third-grade teacher Allison Stormont says many of her students' families fled Laos and stayed in refugee camps in Thailand while they waited to come to the United States. So Stormont visited Thailand and Laos, where she trekked through mountains, visited villages and temples, and traveled down the Mekong River on a summer sabbatical paid for by the nonprofit foundation Fund for Teachers.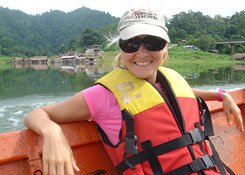 Photo courtesy of Allison Stormont
Meandering down the Mekong: Allison Stormont on the way to a Karen village elephant trek.
Stormont's classroom is now filled with Thai welcome flags, little wooden turtles, and indigenous instruments so students can, as she says, "get their hands on Thailand." And at her school's Passport Day, where classrooms are transformed into countries, Stormont re-creates the Loy Krathong festival, which celebrates renewal.
"Students make lotus flowers with cardboard leaves and put pennies in the open leaves," Stormont notes. "I made a paper river and full moon and have candles and Thai music -- actually music made by elephants."
Stormont explains that as a teacher, "you're juggling 20 balls in the air, and you're constantly overworked and stressed. This kind of travel gives me the space to reflect, and also reflect with the idea that this is where my kids are from."
Learning about her students' cultures also focuses her thinking on the ethnic balance in her classroom, which includes many energetic students. "I just keep thinking about how to influence students, combining a Buddhist, calmer way of being with their vivacious personalities," she says. "How do I blend together cultures that are so diverse into a comfortable, safe, warm setting?"
Fund for Teachers encourages educators to travel the world on summer sabbaticals and to create their own proposals for professional growth.
Who sponsors the fellowship? The nonprofit foundation Fund for Teachers, started in 2001 by businessman Raymond Plank.
What is the fellowship for? As individuals or in teams, teachers design summer sabbaticals they feel will have a positive impact on their teaching. The organization says educators know best what they need for professional development, so it encourages them to travel the world and get out of their comfort zones, expand their experiences, and ultimately inspire their students.
Who can apply? Full-time teachers in grades P-12 who spend 50 percent or more of their time in a classroom or in classroom-like settings, work in select areas, and have three years of teaching experience.
What does the fellowship pay for? Everything, if you budget well. The Fund for Teachers offers individuals up to $5,000 and teams of two or more up to $10,000.
How many teachers get the fellowship? An average of 500 per year.
Are there any additional requirements? Teachers attend preparatory and follow-up meetings and provide documentation of how their summer sabbaticals influenced their teaching. Some requirements vary among school districts.
When are applications due? Deadlines vary from state to state; check their website for more information. Grant-writing tips for teachers are also available on the site -- as well as a scoring rubric, so applicants can see how proposals are evaluated.
Whom do I contact? The Fund for Teachers.
Regina Allen, an elementary school librarian in Columbia, Mississippi, has gone on two trips through the Earthwatch Institute. In 2006, she visited Mallorca, Spain, as a member of an international team on an archaeological dig. The next summer, she joined Vietnamese scientists studying the butterfly population in a diminishing jungle outside of Hanoi. Earthwatch covered costs for housing, food, and transportation in Vietnam as well as funding for research equipment needed during the expedition up to $2,500.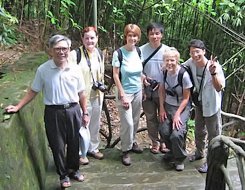 Photo courtesy of Regina Allen
Butterfly Effect: Regina Allen's travel team in Vietnam.
Back at school, Allen's trips have helped inform her lessons on extinction, metamorphosis, folklore, and career options; expand the school's butterfly garden; and diversify the library's collection. Allen recommends Earthwatch trips for teachers who want first-hand experiences and who want to see ecological and environmental efforts that are working.
"You're with the local people and get all kinds of opportunities to mix with professionals in all sorts of scientific endeavors from those places," she says. "I wanted to have a trip in which I knew I would make a difference, and I did. I did work that added to their research."
Scientists all over the world run Earthwatch research trips.
Who sponsors the fellowship? The Earthwatch Institute, an international nonprofit organization founded in 1971, which recruits volunteers from many fields every year to join research teams around the globe.
What is the fellowship for? Teachers can apply for summer General Educator Fellowships to work with scientists on research projects, such as monitoring the zebra population in Kenya or excavating sites related to Peru's Wari Empire, in the Andes, or for Live from the Field slots; in this short trip during the school year, teachers report back to their classrooms with blogs, videos, and phone conferences.
Who can apply? All K-12 educators. (You don't have to be a scientist!)
What does the fellowship pay for? Earthwatch covers all the costs of research, food, and accommodations; the fellow pays for travel to and from the site, but most receive some reimbursement.
How many teachers get the fellowship? About 200 annually get the summer fellowships; the number of Live from the Field fellows varies.
Are there any additional requirements? Fellows keep journals, develop lesson plans they use in class after the trip, and give presentations about their experiences.
When are applications due? Usually in February. Check their website for updates.
Whom do I contact? Earthwatch Institute Education Fellowships and Alternative Expedition Funding.
Kate Cook and her many students have reaped the benefits of her summer with the Fulbright-Hays Seminars Abroad Program. Many years back, Cook, who teaches Spanish and human rights, went to Venezuela with the program. Her group went on an intense five-week tour of the whole country, from the Andes to the Amazon rain forest, and took three weeks of classes while living with Venezuelan families.
Cook, who was interested in learning more about Afro-Latinos, visited an isolated beach village in which almost every resident was descended from fugitive slaves. "I interviewed people there and took lots of photos," she reports. "It was very powerful."
Cook was teaching in the San Francisco Bay Area at the time, and she created a unit for her Spanish classes introducing Afro-Latino history and culture. "I used it every year I was in San Francisco," Cook says. "My students did projects on it, and it was very eye opening for them."
Topics and host countries for the Fulbright-Hays Seminars Abroad Program vary from year to year.
Who sponsors the fellowship? The U.S. Department of Education's International Education Programs Service.
What is the fellowship for? Four- to six-week summer seminars help educators improve their knowledge of the people and cultures of countries outside western Europe. In 2012, participating countries include Brazil, Uruguay, China, India, Mexico, Colombia, and the United Arab Emirates.
Who can apply? All educators with three years of experience who have responsibility for curriculum in the social sciences or humanities, including languages.
What does the fellowship pay for? Everything, except for a $450 cost share.
How many teachers get the fellowship? More than 100 teachers annually.
Are there any additional requirements? Participants are required to complete a curriculum project when they return home.
When are applications due? Usually in October. Check their website for updates.
Whom do I contact? Fulbright-Hays Seminars Abroad.
Michelle Terl had heard friends rave that their fellowships through the English-Speaking Union changed their lives.
"Once I went and had the experience, I understood why they said that," says Terl, who teaches drama and runs an active after-school theater program in Broward County, Florida. "There was just so much to bring back into the classroom and into my extracurricular experiences."
As part of the Teaching Shakespeare Through Performance course at the Shakespeare Globe Centre, Terl and her peers (a mix of English and drama teachers) studied voice and movement with Globe practitioners, attended lectures about the theater's construction, and developed performances with individual directors.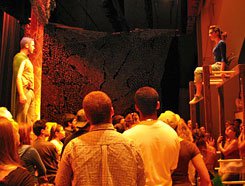 hoto courtesy of Michelle Terl
All the World's a Stage: A student performance of A Midsummer Night's Dream utilizes alternative staging ideas learned in the British Universities Summer School Program.
Terl was so inspired that she and her students re-created a small replica of the Globe Theatre back in Florida. "I wanted to share the experience I'd had," she explains, "and talking about it just wasn't enough. I wanted my student actors to perform on a stage like the Globe's and connect with an audience that closely."
Her students put on a sold-out show of A Midsummer Night's Dream. "To have a high school kid elbow you in a crowd and say, 'This is the coolest thing I've ever seen,' well, that makes me a happy teacher," says Terl.
And her performers were happy about re-creating the Globe, too. "They told me later, 'We thought you were insane, but now we're really glad you did it.'"
Who sponsors the fellowship? The English-Speaking Union of the United States, a nonprofit educational organization committed to promoting "scholarship and the advancement of knowledge through the effective use of English in an expanding global community."
What is the fellowship for? Fellows take three-week courses at the International Shakespeare Globe Centre, Oxford University, or Edinburgh's Scottish Universities International Summer School. Past courses have included Teaching Shakespeare Through Performance, Text and Context: British Literature from 1900 to the Present, Modernism and Postmodernism, and numerous other literature, history, and creative writing classes.
Who can apply? Secondary school teachers near one of the English-Speaking Union's 72 branches in the United States.
What does the fellowship pay for? It varies. The branch offices of the English-Speaking Union give out the scholarships. The majority of branches cover all tuition, accommodations, and some meals, and many include the airfare as well.
How many teachers get the fellowship? There are usually about 35 to 40 fellowships awarded from 25 ESU branches each year.
Are there any additional requirements? No, but some branches ask participants to speak to their members after the trip.
When are applications due? Most ESU branches have deadlines in late January. Check your local ESU's website for details.
Whom do I contact? The English-Speaking Union of the United States. Look at the website to find the ESU branch nearest you to see whether it funds a scholarship.
Lisa Morehouse taught secondary English for 12 years in San Francisco and rural Georgia. She is now a public radio journalist and an education consultant.
Educators Abroad: More Programs for Traveling Teachers
Here are some other travel grants and opportunities you might consider:
American Councils for International Education Seminars
Sponsor: American Councils for International Education
Application deadline: For the Argentina and Brazil Administrator Exchange Programs, the deadline is usually late March. (Check their website for updates on the other countries.)
Open to: Elementary and secondary school teachers in specific subject areas (depending on location); superintendents, principals, and other administrators; university faculty may also apply to the program in Greece
More information: American Councils for International Academic Exchanges
After orientations in Washington, DC, participants attend seminars in host countries lasting 5-8 weeks. The Greece and Italy programs focus on the classics; in the India, Thailand, and Uruguay programs, teachers work with local counterparts. The program covers all costs.
Summer Fellowship in Korean Studies
Sponsor: The Korea Society
Application deadline: Usually in January or February. Check their website for details.
Open to: Teachers in grades K-12 in social studies
More information: The Korea Society
Teachers visit Korean historical and industrial sites during a two-week, all-expenses-paid trip. The program includes lectures and discussions on Korean history, culture, politics, economics, arts, and language.
Transatlantic Outreach Program
Sponsor: Goethe-Institut
Application deadline: Usually in February. Check their website for details.
Open to: Social studies teachers in grades K-12, as well as curriculum coordinators and some college professors
More information: Goethe-Institut
This is a fully funded, two-week trip in which participants study modern Germany. Past trips have included visits to schools, centers of government and industry, and historical and cultural sites.
Omprakash Volunteer Abroad Grants
Sponsor: Omprakash
Application deadline: Quarterly: February 15, May 15, August 15, and November 15.
Open to: Anyone, including educators and those interested in teaching
More information: Omprakash Volunteer Abroad Grants
Omprakash connects volunteers with grassroots organizations around the world and also offers grants to volunteers who propose special projects. Past recipients include educators who've started after-school programs, photo-literacy projects, and other educational work abroad.
-- LM
This article was updated on June 10, 2013, to reflect changes in grant schedules, eligibility, and other features.