Teacher Appreciation – Tip #13: Create a Wordle of Thanks
Get tips and ideas every day in May for Teacher Appreciation Month on how you can thank your favorite teachers — and support them throughout the year!

Credit: Illustration by Walter C. Baumann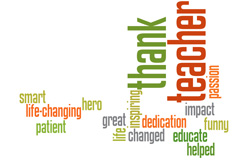 Shower your favorite teacher with thanks by using
Wordle
, a free Web-based tool that creates a word cloud based on text you provide. Simply copy and paste thank you letters from parents and students into Wordle to generate a word cloud of thanks. Alternately, you can ask students and parents to write down descriptive words about the teacher. You can then use those responses to create a word cloud packed full of nice adjectives that paint a portrait of the teacher. Want an alternative to Wordle? Try
Tagul
.
"Every Day in May"
Every day in May we'll be offering up a new way to appreciate teachers.
Do you want to share a recommendation for how best to show your gratitude to an educator? Post a comment with your tip below -- we'll feature the most popular ones (that is, comments with the most likes) on Edutopia.org and in our newsletter.