Professional Learning
The Teachable Moment: Is It Science, or Just Plain Serendipity?
While in California last week for a meeting, I hiked the hills above Novato, a town north of the Golden Gate Bridge. It was a clear day, and the afternoon sun warmed the west-facing slopes. I followed a dirt road that had been carved out of the hills. An ardent observer of nature, I quickly clued in to the fact that there were a large number of lizards around.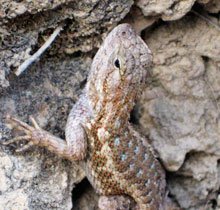 Credit: Jim Moulton
On the first half of the hike, I was able to get a few decent lizard photos. And because I was searching for the little rascals as I hiked along, I learned a few things about them. Lizards sit in the sun: Rocks, exposed roots, fence posts, and tree trunks are favorite sunning places. Lizards are also incredibly zippy. It took only my stopping to send them scurrying down a hole or behind a trunk.
On the way down late in the afternoon, I observed the lizards behaving differently. The light was now blended with shadows, meaning less heat, and because of this, they slowed down considerably. Were they suddenly willing to pose? No, that would be a stretch. However, without the direct sunlight, their cold-blooded bodies could not move as quickly, and my camera and I were able to get closer. Aha! I had discovered the best time to photograph lizards in the hills of Novato!
OK, I understand that you are teaching kids and not photographing lizards, but this experience got me thinking about teachable moments. You know, those times -- that occur either regularly or not -- when our students are most receptive to learning.
Where do you find teachable moments? When do you find them? And are there patterns you have recognized? Is there one example that has really stuck with you? Come on, make this a shareable moment!