Professional Learning
Inspiring Teacher: Her Race to the Top
How a neglected student named Tamara Douglass went on to become an award-winning teacher at the same high school she attended.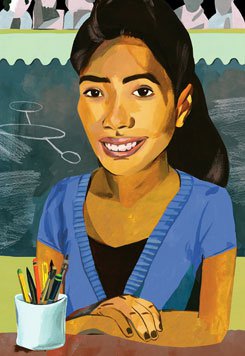 Credit: Justin Gabbard
Nearly two and a half decades ago, Tamara Douglass walked through the doors of Southeast High School, in Springfield, Illinois, as a freshman student. It's 2010 and she's still there. A class of 1989 graduate from the midsize public school, she's now on the other side of the desk, a teacher in the history department for the past 16 years.
It's a remarkable bit of consistency for a woman who's seen stunning changes in her years there. She was one of the few African American students to attend Southeast not long after the federal desegregation order of 1976. The school was deep in the throes of racial tension, and she was treated like a second-class citizen. As a teacher in that same building, she would go on to win the prestigious Horace Mann Educator of the Year Award. In so doing, she experienced the kind of epiphany that every educator seeks -- and that some transform into an abiding, lifelong commitment.
Was there a pivotal experience you had as a student?
Some of my high school teachers thought the black students were all incapable and incompetent. But there were also great teachers who expected a lot from us. I remember my sophomore American literature teacher. I wasn't doing great in class. One day she said to me, "You owe it to your race to stay in this class. Buckle down because you're not dropping out."
After she said that, I saw her in a different light. I thought, "She thinks I can do it, and she had the nerve to say that." It was an incredibly helpful thing to say. When she said that to me, all the lessons I knew about our country and the struggles for minorities -- a lightbulb went off. By the end of the year, I was getting A's. Something changed.
Has there been a similar realization in your career?
The Horace Mann Educator of the Year Award honors the best teachers in the district. In 2008, I was at the banquet where they'd narrowed it down to five finalists, including me. They show footage of you teaching, they read letters people wrote about you, and then they announce the winner. Well, they said my name and I froze. My principal started shaking me: "Tammy, you won!"
Part of what made it special is that I'm known as a "hard" teacher who enforces the rules. I believe in that, but it also means you don't always get to hear glowing feedback from the kids -- not until years later, anyway. So it was a validation. At the end of each school year, I always question whether I'm still doing a good job. Winning this award, it was like finally knowing the answer. Of course, I don't think it hit me until I was sitting in traffic a little later. A guy three lanes over said, "Hey, did I see you on TV? You're that teacher!"
How has this validation affected your work?
I've never forgotten those tough experiences I had as a student. I've chosen to be a teacher who is cognizant of it all: the good, the bad, and the ugly of adolescence. A teacher can harm a child just by being thoughtless. I never want to do that. I love the students who are brave enough to be different. I want them to live their joy. But in order to get there, you have to get through this thing called high school, and that means you're going to have to get through Ms. Douglass's class.