Parent Partnership
Parent Essay: Switching Schools
Don't be afraid to make a move — and don't expect miracles.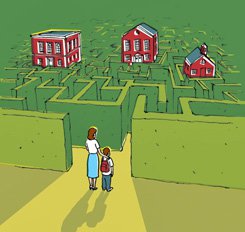 Credit: Jason Lee
After the tears welled up, but before the nightmares began, I started to suspect that my daughter's kindergarten might not be a great fit. There was an unnerving avalanche of dittos, make-work homework, and art that consisted of premade girl and boy shapes with smiles and dots for eyes. I also wasn't comfortable with the treasure box that rewarded kids at the end of the day with plastic toys. Then, after going to school for almost two weeks, Pascale started crying on the rides home.
Choosing a school is like getting married. And despite the fact that we had researched everything carefully, had long discussions about our values, and made what seemed like the best possible match at the time, it was starting to feel like a shotgun wedding. But was I prepared to yank my kid out three weeks in? We had landed in parochial school after bitterly flaming out with the public schools. Where were we going to go?
Like most diligent parents, we had started the school search two years earlier. We live in San Francisco, which works on a school-assignment process based on a byzantine lottery tuned to create economically diverse classrooms. You pick your top choices, and the district makes you an offer based on those selections. For years, at playgrounds and birthday parties, the talk invariably focused on the following: Your short list of schools, PTA fundraising power, and schools that teach to the test too much or not enough. I went on 22 tours and gathered copious amounts of information. None of it mattered in the end.
When we opened our letter from the district, we found not one of our seven choices. We were assigned to our neighborhood school, which had no PTA, no fundraising, and API scores among the lowest in the district. We had applied to parochial school as a backup. This one was known as the most progressive, and we had a friend there who loved it. After several painful and fruitless rounds with the school district, we mailed a deposit and bought a pile of plaid uniforms.
A few weeks into the parochial school, after Pascale started having nightmares, I headed to the public school district office and cried onto the desk of an impassive woman who told me that they'd call if an opening arose. I went home and called my last hope, an arts-based charter school far from our house. They had a slot!
The director walked us around the school and into a sunny, messy kindergarten room that contained Pascale's dear friend from preschool. She led us into the music room, where the teacher belted out a Johnny Cash song on a guitar while a dozen fourth graders banged on xylophones. Boys in baggy pants danced to jazz upstairs, and in the art studio, kids talked about Frida Kahlo. After five minutes of deliberation, we registered Pascale, setting her start date for the next day.
Is the new school perfect? Of course not. The Family Association is still trying to find itself, a deficit is looming, a move is pending, and our daily drive there is awful, none of which applied at the stable, nearby parochial school.
But all four of her teachers -- kindergarten, music, dance, and art -- are wonderful. Pascale is learning to express her feelings and assert herself, along with phonics and math. She has spoken and sung beautifully in front of 300 members of the school community, and she's made real friends. She's happy.
No school is perfect. The trick is figuring out which flaws you and your child can live with. Letting go of the idea that any one school would meet all of our needs made the process easier. Seeing Pascale thrive has confirmed that switching schools was the right move, and as overwhelming as choosing a school is, we feel very lucky to have had options. After three months, the relationship between our family and the school feels even more like a marriage, only this time, for better or for worse, it seems like it just might last.
Anne Marie Feld is a freelance writer in San Francisco. She is still dreaming of the perfect kindergarten, even though she knows better.