Social & Emotional Learning (SEL)
Sub Contractor: Advocate for Itinerant Educators
Substitutes' activist makes temporary teachers permanently happy.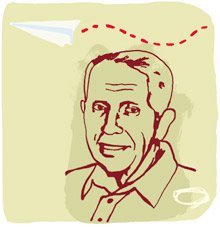 Credit: Brian Cairns
Substitute teachers are often stereotyped as expendable losers struggling to control rambunctious students who figure the rules are on hold. In reality, they are often retirees or inexperienced new graduates working thankless jobs that pay by the day. They move from place to place, where they are needed but barely acknowledged.
It's enough to make Jim Politis throw down his lesson plans.
Instead, Politis, a substitute teacher for the past six years, became an outspoken champion for this downtrodden group as president of the National Substitute Teachers Alliance (NSTA). "I'm not ashamed to say I'm a sub," says Politis, who directs the nonprofit organization from his home base in Gaithersburg, Maryland.
Politis works on behalf of the 274,000 substitutes who teach 5 million kids each day. The NSTA has only 400 members so far, but Politis aims to triple membership over the next year, while raising awareness of issues crucial to subs: better health care, proper classroom training, a grievance process, and the option to join a union.
He is part advocate, part confidant, often spending evenings on email helping substitute teachers solve problems, lending advice gleaned from thirty-two years of experience as a high school psychology and history teacher and a union delegate. One Alabama woman recently wrote him that although she loves her job, she makes just $45 a day, less than what many fast food workers earn and a rate below minimum wage in many states.
Politis has big plans for the NSTA, which went without a president for about a year before he took over in 2005. First, they must organize. Though many NSTA members lead substitute-union locals in their communities, others are fearful about getting too involved. "So many subs are dependent on this income," says Millie McBee, an NSTA board member. "They're afraid to start groups in their area. They are afraid of the school board because this is their main job."
Politis is no stranger to bargaining, having cut his teeth as a delegate with the National Education Association. In 1968, the first year he served, the Montgomery County, Maryland, teachers went on strike. Months later, they won the right to bargain on wages, hours, and working conditions. "The subs are suffering the same indignities that I suffered when I started teaching," he says.
History in the classroom might be repeating itself, Politis adds. But that won't stop his mission to gain something he believes every substitute teacher deserves: respect.
Kim Girard is a writer based in San Francisco.