Professional Learning
In Our Classrooms: Supporting Children of Military Families
Many of the estimated 30,000 American teens who have a parent serving in Iraq or Afghanistan are facing their own quiet battles at home and at school.
Two teens who have been through the experience suspect that girls may face special risks -- including depression, academic challenges, and even self-harm -- when a parent heads to war. Now, they're stepping up to make sure other military daughters get the support they need. I caught up with them recently to find out what we can learn from their ambitious effort.
The Team
Kaylei Deakin was an eighth-grader when her dad was deployed to Afghanistan with the Army National Guard. Classmates made fun of her when she started wearing his camouflage jacket and hat to school, but that didn't stop her. "It was a comfort thing," says Kaylei, who's now a senior at Elk Grove High School near Sacramento, California.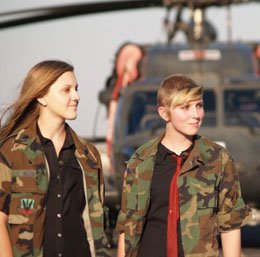 Credit: Moranda Hern
Moranda Hern (pictured left) and Kaylei Deakin.
As her dad's deployment stretched on for 15 months, her family life went into a downward spiral. Her mom grew withdrawn, and ordinary rituals like family dinners fell by the wayside. Kaylei took on more and more responsibility for her two younger sisters. "I felt like I had to keep the household together," Kaylei says. "It was like I stepped into my dad's role."
Moranda Hern, a homeschooled teen from Clovis, California, watched her friends "basically disappear from my life" when her dad shipped off to Afghanistan with the Air National Guard in 2007. "They didn't know how to act around me," she says, "so they just left me alone. I had no one to talk to." An only child, Moranda says her self-esteem tanked along with her interest in school. She lost weight and, at one point, covered up every mirror in her house. "It was a big shock. I'd always been this confident alpha girl," she says.
Both girls assumed they were the only ones in the world having such a hard time coping. But their isolation ended when they happened to meet -- and instantly bond -- at an event sponsored by the National Guard. Now, they've teamed up to start what they hope will grow into a national movement.
The Dream
Hern and Deakin have launched an organization called the Sisterhood of the Traveling BDUs. The name is a play on the popular book and movie title, Sisterhood of the Traveling Pants, but with a twist: BDU stands for battle dress uniform -- a term every military kid will instantly recognize.
Eventually, they hope to have an active chapter in every state. "We want military girls everywhere to be empowered, inspired, and have the support of the Sisterhood," Moranda explains. That way, she adds, "no girl will ever have to go through what we went through."
To get things rolling, they are organizing a statewide conference in Clovis, Hern's California hometown, from March 12-14. They expect 200 girls from across the state to take part in the free weekend of "support and empowerment," Moranda says, and go home fired up about serving their own communities.
Lessons from the Sisterhood
Talking with these two is an eye-opening experience. They have managed to earn support from high-ranking military officers, including Brig. Gen. Mary Kight of the California National Guard, and have shared their compelling story everywhere from YouTube to major news outlets to youth organizations like Do Something. Their upcoming conference will be the first of its kind anywhere, and promises to generate a bigger conversation about the issues facing military families.
How can educators bring this conversation into the classroom? Moranda and Kaylei offer a few suggestions:
Don't ignore military kids. Do you know which students have a parent serving overseas? "Teachers and classmates may not have a clue," Moranda says, especially if the parent is serving with the National Guard and the family lives far from a military base. When Kaylei's dad went to Afghanistan, for instance, she knew of only one other student at her school in the same situation, "and he never talked about it."
When she got to high school, Kaylei started an after-school club for fellow military kids to help them overcome the isolation. Moranda suggests having a frank conversation about how peers can support their classmates. "Don't pull away when a friend's parent deploys," she says. "They need you to stick around."
Make class a safe haven. Classroom discussions of war can hit kids hard, especially if they have a parent in harm's way. Kaylei says classmates used to pepper her with questions she didn't want to answer. "They'd say things like, 'Does your dad shoot people?' Some of the things kids say can really hurt, but teachers may not realize how it's affecting you." Moranda felt uncomfortable when one teacher brought his anti-war politics into class. "When kids come to school, it should be a safe haven," she says. "You don't need someone's political views shoved down your throat."
Encourage and empower young leaders. Kaylei and Moranda have both developed their leadership chops through this challenging experience. Kaylei says she has learned "techniques for getting people to listen, without yelling or screaming. I've realized how strong of an individual I can be." Moranda has figured out how to stay calm when presenting her ideas -- including what she describes as "a very girly PowerPoint"-- to a room full of poker-faced generals.
And both girls have embraced service as an antidote to the isolation they once faced. "Nobody feels more empowered than when helping other people," Moranda says. The secret to effective community service, Kaylei adds, is "putting your full heart and effort into what you're doing."
To learn more about opportunities to get your students involved with the Sisterhood of the Traveling BDUs, visit their Web site. And please tell us about your experiences with teaching military children. How do you help them navigate the challenges?