Social & Emotional Learning (SEL)
Getting to Know — Really Know — Your Students
Look hard to see what makes each student unique.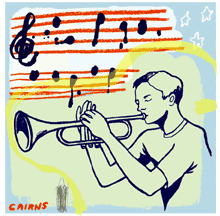 Credit: Brian Cairns
Landon wasn't a child who stood out in a crowd. He certainly wasn't notable in that inner-city sixth-grade classroom. He didn't make trouble, and he wasn't begging for attention. Maybe that's why the teacher didn't try harder to draw him out. Maybe that's why, after months of weekly visits to his classroom, I couldn't tell you his name without looking at the class roster.
Less than half the kids in Landon's class will acquire a high school diploma. Only a third will pass minimum competencies in math, while a dismal 20 percent will read at the state's basic goal level. With this in mind, the school's principal invited my colleagues and me to bring a pilot research project to the middle grades. The primary goal was to raise the level of curiosity. He hoped his teachers would feel compelled to find uniqueness in each student. Most of all, he wanted students and teachers to connect with fresh learning opportunities inside and outside the classroom.
In the project's first months, we surveyed students about their interests, learning preferences, and family experiences. We then created individual and classroom profiles that would help teachers better connect classroom learning to the specific needs and interests of their students. As spring arrived, we decided to reach out to a larger audience by holding a "learning fair."
Imagine a science fair of displays and booths, but with a twist: Our event featured student, teacher, and parent exhibits of hobbies and collections. Fans of the Red Sox displayed memorabilia right next to the Yankees followers. A mother-daughter team from Peru brought native food to share. A young poet read his latest selections.
As 300 people mingled around dozens of tables, a series of loud, shaky notes from a trumpet suddenly cut through the noise. It was Landon. Standing proudly in front of a cardboard backdrop decorated with sheet music and information about the trumpet, he was alternately repeating the opening bars of "The Star-Spangled Banner" and demonstrating -- with reverence and skill -- how to take apart and clean his newly rented treasure. Landon, away from daily classroom expectations, was almost unrecognizable. He was standing tall, transformed by the opportunity to reveal himself on his own terms.
A few weeks later, a young professional cellist and her percussionist husband invited me to an evening of music at a local church. I remembered Landon and his trumpet. Had he ever heard live music? What would happen if he could meet fresh, energetic, talented musicians? I called the principal. He called the mother. And that is why, on that upcoming Saturday evening, a friend and I drove to Landon's house before heading to the performance.
Landon's mother opened the door just as I rang the doorbell. Within moments, Landon rushed down the hall and greeted me with excitement. His hair was freshly slicked back, and a cloud of aftershave followed us to the car. Without breaking stride, he began to ask questions. Where was the concert? Who were the musicians? When did they start learning to play? He also slipped in observations about his favorite television shows and electronic games. He asked about buildings we passed and the graveyard we walked by as we entered the church. We were barely 3 miles from his home, but he was seeing a whole new world.
We arrived at the church with just enough time to get our programs and be seated. What followed wasn't a safe, traditional concert. Among the works was a newly commissioned piece for hand drums, followed by a Piazzolla tango and a composition titled "Musique de Tables," a ballet of hands and fingers on a long, amplified table. Although I was prepared to leave early, Landon didn't even fidget. Toward the end of the evening, Landon looked up at me with a deep, contented smile.
There it was -- the spirit the principal longed to see. It was shining out of Landon's eyes. An evening's exposure to a wider world had connected him to joyous reasons for learning. It was like magic, but how did it happen? Quite simply, Landon grabbed the chance to show more about himself at the fair, and the adults in his life listened.
A year later, Landon is the only seventh-grade student still playing in the school instrumental-music program. He has found a way to shine.
Credit: Brian Cairns
Robin Schader, an assistant professor at the Neag Center for Talent Development at the University of Connecticut, is a columnist for Parenting for High Potential, from the National Association for Gifted Children.