Professional Learning
Still Weighty: The Long Road to Lighter Packs
No lessening of the load in sight.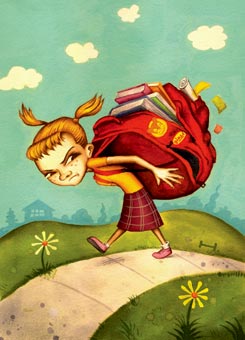 Credit: Hugh D'Andrade
Looking like Himalayan porters, kids stagger off to school carrying packs and bags that burst with up to 20 pounds of textbooks, electronic gear, gym clothes, even musical instruments. And since school lockers are limited or banned in many places, some states are hoping to ease the load.
It's not easy, though. California has passed legislation, which went into effect in July, to set limits on the weight of textbooks in core subjects. Tennessee has passed similar legislation, and at least six other states are debating comparable bills. California schools won't have to worry about weight limits until new math textbooks are ordered in 2007, but even then, kids won't get much of a break.
"The California legislation is going to do little to address this problem," says Stephen Driesler, executive director of the school division for the Association of American Publishers. Lighter textbooks, he says, are likely to be more expensive to manufacture, lightweight paper can be harder to read, and softer covers are less durable. Other options, like having a set of books for the classroom and another for home, would cost more, too.
Meanwhile, according to research by the California State Board of Education, the combined weight of textbooks in the four core subjects of history, math, reading, and science alone typically exceed the recommended weight limits. (Pediatric and chiropractic organizations recommend that the weight of a backpack not exceed, at the very most, 20 percent of a child's body weight.)
Partially to keep up with standardized tests, schools are trying to cover more subject matter than before, which makes books bigger, Driesler notes. Locker bans don't help, nor does the fact that no legislation in the world would convince kids to adopt dorky solutions like wearing pack straps on both shoulders or pulling a wheelie bag.
Driesler says that his organization's publisher members are not "wedded to print and paper." But until technology is so cheap and ubiquitous that every student can carry a dedicated wireless laptop loaded up with courseware, kids will be toting bags loaded down with heavy books.