Project-Based Learning (PBL)
South Grand Prairie: Where Relevance and Relationships Are Key
At this high school, everyone is a winner.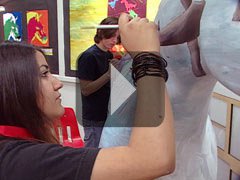 VIDEO: Learning on Purpose: Transforming a Good School Into a Great School
Running Time: 8 min.
Walk with me into South Grand Prairie High School, in Grand Prairie, Texas, a suburb of Dallas/Fort Worth. In place of the traditional glass case packed with sports trophies featuring athletic heroes of yesterday and today, we see rows and rows of flags hanging from the ceiling -- each a celebration of the successes of South Grand Prairie students in all areas, including academics, career and technology programs, extracurricular clubs and activities, and athletics. The 2004 banners, for example, showcase everything from culinary arts (district and state champions) to girls' power lifting (state qualifier) and the Ballet Folkloric School Spirit Award.
This is a school that cherishes all students and provides opportunities for a diverse student population. Here, everyone is a winner.
The teaching and administrative staff at South Grand Prairie work together to create a place where all skills and talents are honored and where the status quo is never good enough. Although the school has been recognized through many local and national awards, the staff does not stand still. Awards and recognition are great, but, at South Grand Prairie, the staff is always looking for new and better ways to improve the high school experience for its young people.
MULTIMEDIA: Ready, Set, Teach. South Grand Prairie High School
New Beginnings
In 1996, a small group of South Grand Prairie teachers met with their principal to explore how they could transform their "good school" that served highly motivated (and high achieving) students into a "great school" that engaged and involved all students. After exploring both structural and academic alternatives, the staff decided to adopt a career-academy approach to teaching and learning, combining rigorous academics with hands-on, real-world work experience that would give meaning and context to the classroom lessons.
Five academies were established: Business and Computer Technology; Communications, Humanities, and Law; Creative and Performing Arts; Health Sciences and Human Services; and Math, Science and Engineering. Teachers were able to choose which academy they wanted to join, based on both their individual interests and their academic and professional training.
To help build a sense of community among participating teachers and students, each academy was assigned its own area within the larger school building, where academic and technical instructors would work side by side -- a rare occurrence in most high schools. Each academy would serve between 350-700 students, compared to 2500 students in the entire school. The smaller groupings would allow for greater personalization and provide opportunities to build stronger relationships among students and between students and teachers.
MULTIMEDIA: Expert Interviews. South Grand Prairie High School
A Focus on Quality, Improvement
Staff development has long been a critical part of reform efforts at South Grand Prairie; teachers take a lead role in developing both ongoing training and special staff meetings and programs. For example, in response to staff changes and the inevitable burnout that accompanies major restructuring, academy teams participated in off-site retreats last summer, meeting for a day and a half to reenergize their commitment to academies, become better acquainted with one another, and plan for improvements during the 2004-2005 school year. Big and small changes were made during this time together: New academy leads were established. New academies were formed. Teams reexamined integrated projects and activities. Projects planned but never completed were reviewed and discussed. "How can we make this better?" was the common theme of the summer work.
Easing the Transition
One of the major redesign efforts at South Grand Prairie was the new Ninth Grade Center, created in 2002 in its own space on the high school campus. By having this separate program -- which essentially serves as a school within the larger school -- ninth graders have been nurtured and supported by their own staff, who are dedicated to helping them make a successful transition from middle school to high school. In a weekly course, now called Transitions, ninth graders draft a six-year plan, detailing their hopes and dreams (and strategies for achieving these ends) for high school and the two years immediately following graduation. This staff-developed course also addresses such critical areas as career preferences, study skills, time management, and involvement in service learning.
In the early years of the academies, ninth graders were fairly removed from their peers in the upper grades. Although this forced separation helped foster a strong sense of identity and community among the freshman class and their teachers, it also meant they were fairly isolated from the rest of the school, making the transition from ninth to tenth grade more difficult than it had to be.
Recognizing the need to build a bridge between the ninth-grade program and the academies, South Grand Prairie staff created new opportunities for joint activities and programs. Ninth graders now spend more time on the regular high school campus and have a solid idea about what to expect during tenth through twelfth grades. They are exposed to all the academies throughout their ninth-grade year, getting to know both students and faculty through formal programs and informal gatherings. For their part, ninth-grade teachers are included in faculty meetings, professional development, and other upper-grade activities.
Building Community
Since 1998, South Grand Prairie has had an advisory program in which students meet in small groups with a staff member to build community and address academic and social-emotional issues. The staff developed the advisory curriculum based on their knowledge of and experience with the needs of their students, and the goal of the program is to provide students with the support they need to succeed in high school -- and beyond.
In the beginning, the groups did not meet regularly, but, later, the program was more tightly integrated into the school schedule, and now they gather weekly for 45 minutes. Today, the advisory groups are organized by academy and by grade level, and students and their advisers stay together all three years.
Whether it's providing support for ninth graders or supporting all students through advisories, the staff at South Grand Prairie doesn't stand still. When a program isn't the best, the staff works together to make changes that positively impact teaching and learning.
Susan Tidyman is the State and Regional Coordinator for the Career Academy Support Network (CASN) in the Graduate School of Education, University of California, Berkeley (www.casn.berkeley.edu). She has worked with the staff at South Grand Prairie High School for the past several years. She can be reached at 925-518-9877 or tidyman@pipeline.com.
Students and staff at South Grand Prairie welcome visitors to their campus. To find out more about a site visit, please contact Beverlye Horton at 972-343-1532 or beverlye.horton@gpisd.org.