Social & Emotional Learning (SEL)
By the Numbers: The Facebook Edge
Social networking offers a competitive advantage in the newest interactive-oriented job market.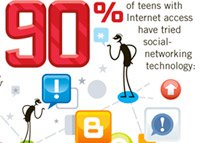 Credit: XPLANE
Click here for visual map
Ninety percent of teens with Internet access have tried social networking technology. They average about nine hours per week doing so and -- great news, teachers -- about half say they've talked about schoolwork while online.
Another upside: Seventy percent of the new jobs created in the United States between 1998 and 2004 are interaction intensive, meaning they require collaborative judgment and insight. Wages for these jobs -- including those in the insurance, banking, and health care professions -- have risen faster than the economy as a whole, suggesting that those prepared for an interactive-oriented job market will have a competitive advantage.
Source: U.S. Bureau of Labor Statistics, Cisco Systems research