Project-Based Learning (PBL)
Snow Days: Technology Brings the Arctic Wilderness Up Close
GoNorth! on a virtual Arctic expedition.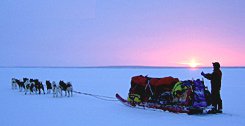 Credit: PolarHusky.com
Mush: Yip, yip, hooray! A team of twenty-seven polar huskies pulls the kids along on their virtual journey.
Students who grind to school on a bus every morning can soon get swooshed off to Alaska by sled dogs in the afternoon. That is, if their class is participating in GoNorth! ANWR 2005, which links students with an international team of six explorers, teachers, and scientists who are traveling through the Arctic. The group is studying climate change, the Gwich'in and Inupiat Eskimo (Inuit) cultures, and the prospects of oil exploration in the Arctic National Wildlife Refuge, in northeast Alaska.
Every week, students log on to the expedition's Web site for video conferences as the team transmits live from its 700-mile dogsled journey. Kids can ask anything during the feed: What language do the Inuit speak? Why do the dogs burrow in the snow when it's so cold outside? Do people really live in igloos? Students also watch video footage of the dogs in action and review photo journals of the week's events, which might include explorers melting ice for water, unpacking sleds so the polar huskies can pull them up a hill, or watching Inuit children dancing at village gatherings. A free guide shows teachers how to tailor the lessons of the twelve-week program to different age groups.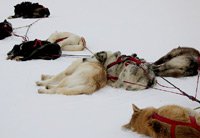 Credit: Aaron Doering
Developed by the University of Minnesota in partnership with NOMADS Online Classroom Expeditions, the program connected 3 million students to the expedition last year. Some of those kids were themselves Inuit: The younger generation participates in the program to learn about its own heritage in this vast and remote wilderness.
Indeed, on the seventy-fourth day of the last trek, Aaron Doering, one of the program's founders, saw headlights coming toward his group. The University of Minnesota professor introduced himself to the Inuit elder climbing off the snowmobile, but he didn't need to. The man had heard Doering's voice on his children's computer at home. "I know who you are," he said. "I heard you on the Internet."