Project-Based Learning (PBL)
Searching for Steven Spielberg: Well, Not Exactly
I was telling my brother about some of my digital video students. I told him how they were really creative, and that they were taking to editing like ducks to water. I told him some of their movie ideas and how they were pulling them together. A couple of kids had even made a movie about Bigfoot going to high school. (See photo.) I told him every year I take some of them to tour the best film schools in Los Angeles. While we're out, I usually show them my home, introduce them to my wife, and take them out to lunch.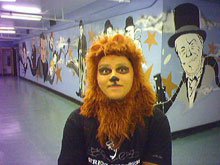 Then he said something that made me really think. He said, "Maybe you have another Steven Spielberg!" I paused for some time, digesting his comment. It felt funny to me, but I couldn't put my finger on why. Then it hit me. My kids are all from the inner city. They live in small homes with lots of extended family. I'm not searching for Spielberg as much as I'm searching for new neighbors. I want these kids to become solid middle-class citizens, and move into the house next door to mine.
Moderator's note: Learn more about how Ron's digital video course changed the lives of The Dropouts: When Kids Are Challenged and Encouraged, Great Things Happen.