Project-Based Learning (PBL)
University of Texas at Austin: A Formula for Preparing High-Quality Math and Science Teachers
Math for the masses. Science, too.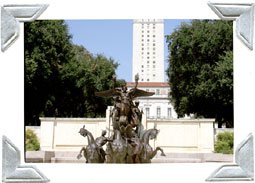 Courtesy of University of Texas at Austin
The preparation of classroomteachers is morethan a job for a singlecollege," says physicsprofessor Michael Marder, codirectorof the UTeach program at theUniversity of Texas at Austin. "It's auniversity-wide responsibility."
So goes the philosophy behinda new kind of teacher-preparationprogram -- one that aims to increasethe number of high-quality math,science, and computer scienceteachers in K-12 schools through apartnership between the university'sCollege of Natural Sciences and itsCollege of Education. Its highlightsinclude a faculty combining researchscholars with master classroom teachers,award-winning criteria for technologyintegration, and an extensive packageof postgraduate induction services.
Taken together, innovations such asthese have garnered UTeach $125 millionfrom the Exxon-Mobil Foundation to replicate its model nationwide.All math and science majors at the university are encouraged to becomeclassroom teachers. Undergraduates can begin the program as early as theirfreshman year and complete it in addition to their original major. As anadded incentive, the introductory courses -- which include multiple fieldexperiences in local schools -- are offered free of charge. "It is theseexperiences that often convince students that this is something theywant to do," says Larry Abraham, UTeach's codirector.
To accommodate the demands of multiple majors, theprogram is streamlined, focused, and intense. Courses andfield experiences closely align with a set of guidelines called theHolistic Program Evaluation Model, which contains specific benchmarksfor technology integration (for which UTeach won the International Societyfor Technology in Education Distinguished Achievement Award in 2002) andlearner-centered instruction.
Graduation requirements include, for instance, an understanding ofhow technology-enhanced lessons can facilitate higher-order thinkingand a demonstrated emphasis on classroom teamwork and inquiry-basedactivities. Candidates must submit electronic portfolios containing self-assessments,observations by master teachers, and student work samplesto show they have met these objectives.
A project-based-instruction course also addresses these skills; codesignedby a professor and a master teacher, the course investigates multiple approachesto project-based learning and culminates in candidates designingand implementing their own projects with Austin-area students (including,for instance, building telescopes in a high school algebra class).
Though UTeach is still a young program, its model seems to be working.Retention rates for graduates are far above the national average: Asof 2006, 80 percent of program alumni who entered teaching in fall 2002or earlier were still teaching. Of the remaining percentage, says Marder,many stay in education, even if they've left the classroom.
Some credit likely goes to the UTeach faculty's commitment toproviding cost-free support services to alumni. Master teachersare available by phone, by email, and even in person. (It is notunheard of for master teachers to book a flight to meeta UTeach graduate in his or her classroom.) An onlinetelementoring program called WelcomingInterns and Novices with Guidance andSupport (WINGS) also puts newteachers in touch with experiencedmentor educators.
According to Abraham,on-the-job mentoring isso essential to a newteacher's educationthat UTeach cannotperform one servicewithout the other.
Vital Stats
Location: Austin, Texas
Degrees conferred: Bachelor's or master's, or teaching certification (math and science)
Annual graduating class: 70-80
Time in the field: 15-20 hours prior to formal placement; 14 weeks of student teaching at a single school
Highlights:

No tuition costs for introductory courses
Holistic Evaluation Model
Project-based-instruction course
Postgraduate induction services
Sara Bernard is a former staff writer and multimedia producer for Edutopia.