Project-Based Learning (PBL)
Alverno College: Making Higher Ed Accessible to Nontraditional Students
Professional growth is personal.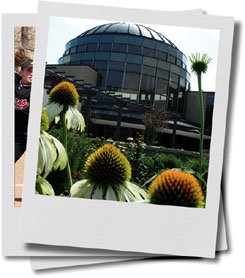 Courtesy of Alverno College
Alverno College, a small women'scollege in Wisconsin, hasgenerated remarkable interest on thenational stage.
Alverno essentially has open enrollment, andpart of the school's mission is to make highereducation accessible to women who need extra support.Many students are single mothers or the firstin their families to attend college. Professors go out oftheir way to provide help; many give students their homephone numbers. And more than one-third of the studentsare minorities -- the highest percentage of such students onany campus in the state.
Despite the challenges of working with nontraditionalstudents, Alverno's education department has an impressiverecord. Five years after graduation, approximately85 percent of education alumnae are still teaching, manyfor schools nearby in Milwaukee. Graduates say they seembetter prepared to teach in comparison with their counterpartsfrom other colleges.
Much of that success stems from Alverno's uniquecurriculum, which focuses on the development ofeight abilities considered critical for real-worldsuccess -- skills ranging from being an effectivecommunicator to having a globalperspective.
The course offeringssound similar to those atother institutions -- perspectives in literatureor philosophy ofeducation, for example -- but in eachclass, students areexpected to demonstrateprogressin relevant abilities.This focuson achieving keyoutcomes encouragesbothstudents andprofessorsto think ofeducation interms of individualdevelopment. It also emphasizeswhat studentscan do, not just whatthey know. Rather than a written exam on literacy assessments,for example, students might be asked toevaluate a real child's reading abilities.
"They don't ask students to memorize things, orquestion them on facts," says Kathi Glick, a teacherin the Whitnall School District who earned her bachelor'sand master's degrees at Alverno and taught aliteracy course there. "Students process the information.Teachers put you out in the real world toproblem solve."
One of Alverno's most innovative practicesis its use of performance-based assessments.Instead of letter grades, students receive continual feedbackfrom peers, instructors, and outside professionals.Professors typically give students a full page or more offeedback on each project. Students also watch themselveson video and conduct self-assessments.
Each course has clear objectives. "Students know thecriteria before they've even stepped into the classroom,"says Nancy Jelen, dean of the education program. Studentscompile a Diagnostic Digital Portfolio of key projects andfeedback, which provides a matrix of their progress.
Field placements are another one of Alverno'sstrengths. During their second and third years, undergraduateshave four twenty-five-hour field experiences(at least two in multicultural settings), plus a practicumin which they work with special-needs students.The placements have clear objectives and are closelytied to coursework. The second placement, for example,focuses on reading and occurs while students takea literacy course. That way, they can apply in life whatthey're learning in academia.
"They're very confident," says Glick, "because they learna lot."
Vital Stats
Location: Milwaukee
Degrees conferred: Bachelor's or (for add-on license only) master's
Annual graduating class: 75
Time in the field: 6 semesters
Highlights:

Ability-based curriculum focuses on individual development
Performance-based assessments
Diagnostic Digital Portfolio
Denise Kersten Wills is a freelance writer in Washington, DC.