Social & Emotional Learning (SEL)
Character Development: The Other Side of the Report Card
Both in school and after school, teachers, administrators, and staff feel as if they are working harder and harder without seeing proportional results. Frustration is mounting, especially in low-performing districts, over fleeting academic gains despite the ever-increasing efforts teachers make to improve test scores.
Along with that discontent, there's a growing backlash: We are too focused on preparing students for a life of tests rather than for the tests of life. Does anyone really want to put on a résumé that he or she provided tremendous intellectual tools to students, but did not offer strong positive moral values and a sense of human decency and civic commitment?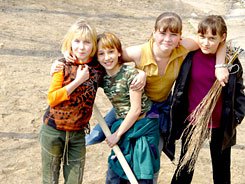 Research, observation, experience, and common sense have converged to suggest strongly that student success, which includes but is not limited to academic learning, depends a great deal on the other side of the report card. Students who are actively engaged in class and come prepared, who cooperate with their peers, who resolve conflicts peacefully, who complete their work, who attend school often and are not tardy, and who demonstrate initiative and leadership are more likely to succeed in school and, ultimately, in life.
An author first made the case for the other side of the report card in an article in the American School Boards Journal in 2002, but it may have been a bit premature. Now, however, the time for this topic has arrived.
The next time you lead a meeting of parents or school board members -- this activity works especially well at Back-to-School Night -- encourage people to answer the following questions honestly and to share their responses among themselves before having an overall group discussion:
Do you want your children to become knowledgeable?
Do you want them to be responsible, nonviolent, drug free, caring?
If I were to tell you that the curriculum is too crowded to teach them all of those qualities, which ones would you give up?
When we ask teachers and parents in New Jersey -- as well as around the United States and throughout the world -- that final question, they recognize how difficult a choice it is. Actually, it is an impossible one. We cannot prepare children to assume their adult roles and the mantle of civic leadership unless they emerge from their school years with all of these attributes.
Educators now have a few names to describe skills such as sound character and citizenship: emotional intelligence, social and emotional learning (SEL), or, as we now say in New Jersey, social-emotional and character development. SECD is truly a blend of social and emotional learning and character education, created based on educator input after a decade of implementing the two approaches separately. Teachers now recognize that successful academic performance by students depends on the following:
Students have social and emotional skills.
Students approach education with a sense of positive purpose.
Teachers find and nurture children's strengths.
Teachers offer students opportunities to develop every day.
Teachers allow kids to express their own unique abilities, exercise sound character, and contribute positively to the classroom, school, or community.
Students have a safe, supportive school climate that fosters a respectful, challenging, and engaging learning community.
So ask yourself, what are you doing to build SECD among the students in your school? Just as important, ask yourself what the teacher in the classroom next to you is doing. Do you know what teachers are doing in the grade level prior to yours? How about in the next grade level? Do you know what your school's overall plan is for building students' SECD?
If we are not systematic in building students' SECD skills, we will face the consequences of social-emotional illiteracy and lack of character proficiency just as we would face illiteracy if we failed to build reading skills systematically. What are you doing at your school to foster these skills in your students?