Technology Integration
Room to Learn: Stark Reality
A teacher returns to a whole new world after Hurricane Katrina destroyed everything around her.
Hurricane Katrina destroyed six of the nine schools in Plaquemines Parish, an area in southeast Louisiana that borders 70 miles of the Mississippi River. By the time classes were scheduled to start last August, students were scarce, the school system was dramatically reconfigured, and the schools sparsely furnished. Stephanie Nguyen, a teacher of English-language learners, lost everything in the disaster -- her entire classroom at Buras High School, as well as her home, her husband's shrimp boat, and their personal belongings. For her, and her ELL students, a new life at combined elementary and high schools in concrete modules brought more anxiety than relief. The new schools, Plaquemines High and Plaquemines Elementary, were largely uncharted territory, says Nguyen."I didn't know if we could be happy, because the school never had an Asian student or teacher," she recalls. Nguyen has done well with very little, and her students are making headway in her care. "I have known some of them since they were in kindergarten," she says."They are my family, too." Here, Nguyen describes her work space.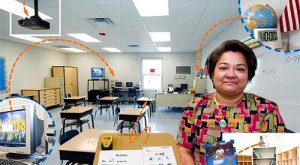 Credit: Brian Gauvin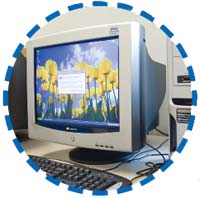 Credit: Brian Gauvin
The FEMA Family Computer
I had just gotten a classroom computer when the hurricane hit. It was still in the box, and it was ruined, along with new supplies for sixty students. We left school on Friday -- on Monday it was all gone. Because all my students now live in Federal Emergency Management Agency trailers, they don't have computers. They use these -- I have two in the new classroom -- for all the work they have in their classes, especially the high school kids.
Credit: Brian Gauvin
Tech in Waiting
I never had a SmartBoard before, and I haven't used this one yet. For some it's perfect, but I have my kids for only thirty minutes at a time, and some need real personal tutoring. It is easier for me to sit next to them and work with them. With the slower readers, or the youngest children, I need to have my finger on the page, going from word to word, making a little progress in a quiet way.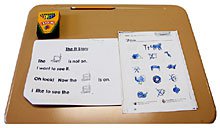 Credit: Brian Gauvin
Basic Training
Before the hurricane, I had everything I needed. Now, I am waiting for ELL money. They tell me it is coming soon. In the meantime, my principal brought me crayons and pencils, and I copy teachers' materials and use books from the new library. The teacher lets me know what she is working on for each student; I find materials and copy them, then make them into a little book.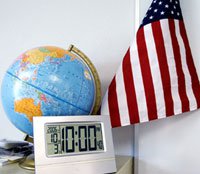 Credit: Brian Gauvin
Symbolism
Each class receives a globe, a clock, and a flag from the school. These mean something to us. We are from somewhere else on the globe, and I'm not going to lie: On the bus from their FEMA trailers to school, many of my Asian students get picked on. But they can always talk to me, and the principal is good to them. I tell them they will be OK here, and more and more are coming back. You know, it's only going to get better and better.
Credit: Brian Gauvin
Sweet Inspiration
Most of my students' parents are commercial fishermen, and many lost their boats, like my husband. But they came back, because this is the only way they know to make a living. I bought this poster for them. I said, "We are going to keep our heads high, make it through this year, next year, and graduation." And they never let me change the poster. Every time I try a new one, they want to keep it.
Jennifer Foote Sweeney is a contributing editor for Edutopia.