Project-Based Learning (PBL)
Room to Learn: Speak Your Mind
The classroom of departing social studies teacher Rich Kitchens belongs in the Smithsonian.
Alert the Smithsonian! Rich Kitchens, teacher of history, civics, economics, and constitutional law, guru of elite mock-trial teams, home brewer of hot sauce, and inciter of legendary in-class verbal melees on topics such as obscenity and religion, is about to leave his fortress of the First Amendment at Piedmont High, where he has taught for twenty-seven years, to become an assistant vice principal at the Piedmont, California, school. Were it not for a space crunch, the school would likely put up velvet ropes and a bronze plaque detailing a history of public awards and local lore, including his tradition of requiring students to stand by their desks to speak in class. In this cluttered archive of bipartisan political detritus, Kitchens has a story for every object.

Credit: Olivier Laude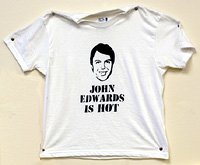 Credit: Olivier Laude
Haute couture
I require that students work for three hours in some capacity on a political campaign. Many are smitten not by a candidate, necessarily, but by the passion in those enterprises. That shirt was sent to me by a former student who loves the process -- and appreciates the humor in it.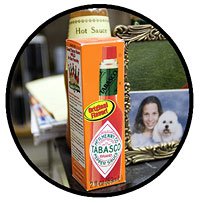 Credit: Olivier Laude
Saucy paperweight
Cajun cooking is a hobby, and I make a batch of my own hot sauce every year -- Rico's Hot Sauce, so named because one of my students and his family called me Rico. The Tabasco was given to me as an example of what my sauce should aspire to, I think.
Credit: Olivier Laude
Tip of the hat
I have a few hats that I wear, mostly from places that I've been. I'm easy to locate that way, and I think the kids get a kick out of it. I was brought up in a time when you didn't wear a hat indoors, so I don't. And I ask my students not to. I end up with a little hat head to explain, but people are very understanding.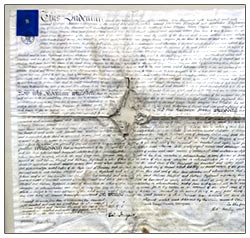 Credit: Olivier Laude
Real deal
This indentured servant contract from the 1800s was given to me by a student and parent. I use it when teaching my American History class, obviously, but I also use it for the contracts portion of Law and Society. We try to decipher it. It is a tangible example of how contracts can be confusing.
Credit: Olivier Laude
Good book
I picked this up when the Gideons were on campus a long time ago. I use it as an example of how teachers can be in a position to proselytize. We get into some pretty in-depth discussions about separation of church and state. You can't leave controversial subjects on the back burner. You treat them in an atmosphere of mutual respect. If you treat kids with respect, you'll get it back.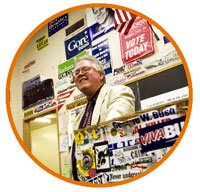 Credit: Olivier Laude
Power podium
When I started, this was blank. I made it a free speech forum where students can put anything on it as long as it isn't too obscene and doesn't completely cover anyone else's contribution.
Jennifer Foote Sweeney is a contributing editor for Edutopia.