Project-Based Learning (PBL)
Rock and Roll into Town: Students Make Tracks in a Recording Studio on Wheels
The John Lennon Educational Tour Bus brings music education to schools and lets teens produce their own tunes.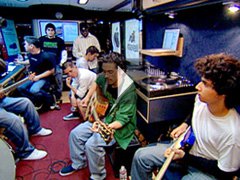 A behemoth sky-blue bus bearing a larger-than-life iconic sketch of John Lennon rolls into town. If you're one of the lucky few to gain entry, you'll find the most tricked-out recording and multimedia studio on wheels ever to hit the likes of Orlando, Denver, or San Diego: a one-of-a-kind roving "playing" station, rigged with the finest high-quality instruments and high tech equipment, fit for a rock-and-roll superstar.
Now, imagine you're an aspiring teen musician, and, for an entire day, this magic bus is yours for the taking -- or, more to the point, yours for the playing. No strings attached: You get to be Chris Martin for a day, with a recording and multimedia studio at your disposal. (Sure, grungy garage bands hold a hallowed spot in the history of American rock culture, but there's something to be said for getting a taste of having your very own CD and music video produced on state-of-the-art equipment.)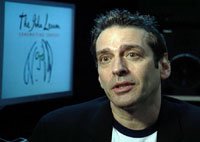 Credit: Edutopia
Brian Rothschild
The John Lennon Educational Tour Bus, launched in 1998, is the brainchild of Executive Director Brian Rothschild. A musician himself, Rothschild set out to create a program that would address the paucity of support for music education in American schools. So he got the thumbs-up from Yoko Ono Lennon to create a nonprofit organization that would promote music literacy under John Lennon's name. "A task I didn't take lightly," says Rothschild, who, like Jack Black's Dewey Finn in School of Rock, tapped into his inner teen by realizing that the best way to educate America's kids about music is not with stodgy band uniforms and seventy-six trombones. The way to get them genuinely excited about music is to let them play music their own way, making available cutting-edge audio, video, and live-sound equipment.
This is precisely what the students find waiting for them inside the big blue bus. There's a traditional music studio with guitars, basses, keyboards, and drums, and another studio for recording and editing CDs and videos, as well as a DJ station. Here, they have at their disposal the best of high tech: Apple PowerMac and PowerBook workstations using software such as Digidesign's Pro Tools and Apple's Final Cut Studio and Cinema Display. As a bonus to getting something akin to a backstage pass into the world of professional music, musicians including Mos Def, the Veronicas, the Black Eyed Peas, and the Grateful Dead's Bob Weir occasionally will jam with them.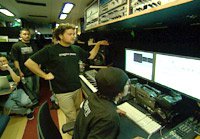 Credit: GLEF
Though thousands of students across the country have had the opportunity to tour the bus, it's the cherry-picked high school musicians who are awarded the rare privilege, and challenge, of making music there. To raise the bar even higher, Rothschild conceived of an idea that's something of a musical Real World, pulling together a group of strangers who share the common bond of music. On a recent winter day, for example, this is precisely what nine musicians from four high schools -- a rapper, a hip hop artist, a guitarist, a brass player, and an opera singer among them -- pulled off outside the Anaheim Convention Center, in Anaheim, California, at the NAMM Show, one of the country's largest music-industry conventions: They composed a song and produced a music video in a mere six hours.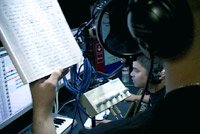 Credit: Edutopia
Rothschild says it's not just the students who, at high schools and entertainment venues in dozens of cities across the country, directly benefit from getting a taste of professional music composition and media production. "We're also inspiring teachers and principals," he adds. "Although the bus has all the bells and whistles, they realize that having similar media equipment at their own schools is increasingly possible. They simply need a computer and a few of the same peripherals we have on the bus."
Rothschild, who originally intended the tour to be a six-month gig, is about to celebrate the bus's ten-year anniversary -- proof, he adds, that young people are hungry for just this kind of music and media education. "It's been a great experience bringing people together," he says, "to have them create something original and show the kids the power of themselves."
Leslie Crawford is a freelance writer living in San Francisco.