Project-Based Learning (PBL)
Become a Ringleader: Teaching with Text Messaging
When I started experimenting with text messaging, I would text this student or that student, usually one or two at a time. Once I got all my seniors' numbers, though, I decided to try a broadcast. During my class, second period, I talked with the seniors about a variety of topics, so I thought I would follow up on one topic in a text message to all of them.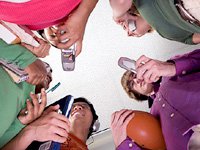 During third period, I thought of some points I wanted to make, so I gave them a blast. It turns out that the coordinator of our academy has all the seniors during third period. Around the midpoint of her class, every student's cell phone went off, almost simultaneously! She cried out, "The ringing! The ringing!"
After she climbed down from the ceiling, she called my classroom and gave me a dressing down. By the end of the period, though, when she came over to my classroom, she had been thinking about the potential of being able to contact every student at once. To her credit, instead of chewing me out, she walked in with lots of questions about how it worked.
Now, I regularly "ping" our students with updates on schedules, assignment reminders, even wake-up calls, and they answer with questions of their own. They even send me messages regularly to let me know what they are up to. My phone vibrates, though, so I never get "the ringing!"