Project-Based Learning (PBL)
Read Your Television: It Can Actually Be Used as a Learning Tool
The boob tube doesn't have to be a brain drain if you ask the right questions.
June 1, 2005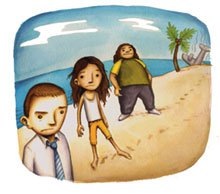 Credit: Hugh D'Andrade
It's the oldest battle in the book: Kids want to keep the TV on, and adults want them to turn it off. Instead of settling for a constant struggle, however, use the tube to your advantage. A thousand channels featuring different narrative styles, plot structures, characters, and settings have a lot to offer if you ask the right questions.
Imagine, for instance, a student discussion of examples of magical realism in Smallville, a show about an adolescent Clark Kent growing up in a Kansas town plagued by strange occurrences after a meteor shower. Pair that with an in-class reading from Gabriel Garcia Marquez's One Hundred Years of Solitude (a classic example of literary magical realism) and you've got a lively in-class conversation. Here are other ideas for five nights of prime-time television paired with classroom-discussion topics.
Monday: Two and a Half Men (Rating: 14) (9:30, CBS)
In this comedy about dating, sibling relations, and single parenting, the free-spirited life of a bachelor is interrupted when his divorced brother and his son move in.
Essay:
Define theme. In a paragraph, identify at least two themes in this comedy and give examples from the episode that illustrate each.
Discussion:
What are the differences between Charlie and Alan? Think of a problem in the episode and how each dealt with it. Do you relate to one brother more than the other? Why?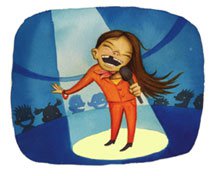 Credit: Hugh D'Andrade
Tuesday: American Idol (Rating: G) (8:00, FOX)
Idol, watched by millions, looks for America's top singing and performing sensations.
Essay:
What makes an idol? Discuss the image and traits we expect our "idols" to possess, giving specific examples contestants exhibit on the show.
Discussion:
Do you usually agree or disagree with the outcome of each show? What does that imply? Do your ideals match those of millions of other viewers?
Wednesday: Lost (Rating: 14) (8:00, ABC)
Plane-crash survivors must work together to stay alive, but the dangers of the Pacific island where they've landed -- and their own secrets -- become threats to the livelihood of the group.
Essay:
Choose three characters and explore how their background adds to the dramatic plot. Questions to consider: What cultural issues or personal conflicts arise? What is a stereotype? Do you see stereotypes in any cast members? For instance, which characters take on the role of the hero or villain?
Discussion:
Based on watching the characters in these conditions, what is necessary for a human being to survive? Describe the positive and negative ways extreme conditions can affect a person. In addition to being castaways, in what other ways are the characters lost?
Thursday: The O.C. (Rating: 14) (8:00, FOX)
This generation's Beverly Hills 90210, the soap opera follows the lives of the rich and trendy of Newport Beach, California, one scandal and breakup at a time.
Essay:
What is setting? Define and establish the setting of The O.C. Do you think the show's elements, such as plot or character, are exaggerated, or realistic? Talk about three characters or specific incidents from an episode that prove your stance.
Discussion:
What is a trend? Which trends, such as in music or fashion, do you see on the show? Are these trends visible in your life?
Friday: Joan of Arcadia (Rating: PG) (8:00, CBS)
In this drama, strangers claiming they are God continually confront a teenage girl and give her directions to do things, while the rest of the town finds her a bit odd.
Essay:
Respond to the unusual condition of the main character, Joan. Why is Joan viewed as strange? Do you think the conversations with people who claim they are God are real, or hallucinatory? What could these conversations symbolize to Joan? To viewers?
Discussion:
How do characters around Joan -- such as her father, her brothers, or her classmate Grace -- react to her odd ways? What do you think about Joan? How is she like the real Joan of Arc?