Project-Based Learning (PBL)
Project Management Keeps Learning on Track
Turn pandemonium into productivity by harnessing tech tools and cultivating self-directed students.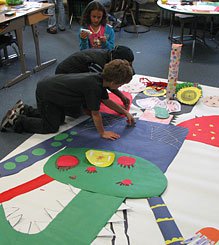 Credit: Courtesy of Terry Smith
Building Creativity: Students attach hair (from Kansas), body cobwebs (from New Hampshire), and heart-shaped wings (from New York) to their monster, which has 29 parts designed by 29 classrooms.
Last fall, Terry Smith's fourth graders at Eugene Field Elementary School, in Hannibal, Missouri, spent several lively weeks working on the Monster Project, an online collaboration with students across the country in which they sought to create the ultimate fantastical creature. In the process, students develop skills in creative thinking, clear communication, dispute resolution, and deadline-driven teamwork. "When they start building the monster," Smith adds with obvious delight, "that's when the chaos sets in."
Smith has come to welcome a level of classroom mayhem as "absolutely essential to learning," he says. But making meaning from what appears to be a kind of pandemonium requires careful project management, which, according to teaching veterans like Smith, is a necessary skill for creating a successful project-learning environment.
In addition to scheduling the Monster Project at the start of the school year so that students become accustomed to what he calls "project mode," Smith uses technology such as a wiki to plan and coordinate the many collaborative aspects of the project, such as scheduling Skype conference calls with classes from other parts of the country. Smith also maintains a class Web site, which enables him to archive student work and communicate what he's doing with his network of long-distance colleagues.
Like other teachers spearheading ambitious collaborative units, Smith's two-pronged approach to managing the Monster Project -- developing his students into self-directed learners while also harnessing technology tools to help keep things on track -- has allowed him to smoothly complete complex projects while maximizing student learning opportunities. "Teachers are only successful if they understand how to manage the project cycle," notes Bernie Trilling, global director for education strategy and partnerships for the Oracle Education Foundation, which emphasizes project learning.
Define, Plan, Do, Revise
When Smith came to teaching in 1994 from the computer industry, he brought project-management strategies with him. As a result, he quickly grew comfortable with the chaos of project implementation, and he knew that he had to simultaneously pay close attention to timelines, learning goals, and assessment. But for teachers without private-industry backgrounds, it often takes trial and error to learn how to manage the moving pieces of a project while keeping an eye on instructional goals.
"It's not something teachers are taught in preservice programs," says Trilling. He became aware of the dearth of project-management training for teachers when he began investigating why some teams drop out of Oracle's ThinkQuest competition and stop contributing to the Web site's project library. Time and project management turned out to be the missing link for the competition, and lack of professional development, and a dearth of support, led teachers to stop working on projects in general, so the Oracle Education Foundation began offering assistance.
In its training, the foundation emphasizes four stages of successful project-learning design that ultimately makes projects easier to manage: define, plan, do, and review. Under this framework, projects start with sound instructional goals and the formulation of an engaging question for students to explore (the define stage). Then, the teacher breaks the project down into manageable chunks and stages (the plan stage) geared toward providing students with the room to pursue open-ended questions (the do stage). The project ends with evaluation and reflection (the review stage), which can lead to an improved project the next time the teacher uses it in the classroom.
The foundation also began providing a free online ThinkQuest work space that teachers can use as a project-management control hub. Deb Austin Brown, a K-5 communications teacher at Alban Elementary School, in St. Alban's, West Virginia, credits the work space with helping her manage a six-month-long project in which her students conducted interviews with prominent community members.
The password-protected site enabled her to set up a central project Web page where she could post information and reminders for her students. Each student also had his or her own Web page, which linked back to Brown's central site, allowing her to see their work in progress. The program's messaging tools also allowed Brown to quickly communicate to the entire class or send messages to individual students.
"I could take five minutes in the evening to check in with students," says Brown, who used these brief daily missives to give her students extra help in troubleshooting challenges and to keep them motivated to complete the project. "Some kids just needed a little encouragement."
Developing Self-Directed Students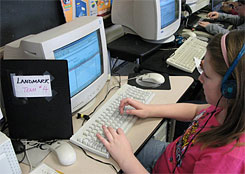 Credit: Courtesy of Terry Smith
Common Ground: Terry Smith's fourth-grade students search for landmarks based on clues given to them by Landmark project partners from around the world.
Another key component of the successful project-learning classroom, says Smith, is empowering students to manage themselves. "They've been trained to sit quietly by every teacher they had before me," he explains. "These are habits I have to break." To train them to get into project mode, Smith organizes his students into groups even when they're not working on a project. He also says that having a class president and vice president encourage peer leadership and self-direction.
Technology can also help train students to take more ownership of their learning. At the Science Leadership Academy, an inquiry-based public high school in Philadelphia, a custom-built management system helps students adjust to project learning. The system enables students and teachers to manage everything from project deadlines to assessments to communications, and it features both a public site where students can publish their work and a password-protected site for internal use.
Lisa Parisi, a fifth-grade teacher at Denton Avenue Elementary School, in Long Island, New York, also uses technology to encourage student independence because, she says, successful project management is actually "all about students managing themselves."
Depending on the assignment's requirements, Parisi might integrate any number of Web 2.0 programs. To make sure her students are on the same page, Parisi introduces a new tech tool to her students prior to starting a project by teaching a mini-lesson to a small group. These students then share their expertise with classmates, reinforcing the idea that the teacher doesn't hold all the answers. Students have used such technology as a wiki, which provides a virtual space for students to work together, and Skype, an affordable way for the teams to communicate by phone over the computer.
Parisi says that over the years, she's learned firsthand about the importance of project management: "I'd do one fabulous project per year. Then I'd be exhausted," she recalls. "I'd say, 'That was great. We'll do it again next year.' But she became convinced that projects were too powerful to do only occasionally, so now, thanks to Parisi's consciously implemented project-management techniques, she delivers nearly all of her curriculum through project learning.
Still, Parisi acknowledges that planning and managing meaningful projects can take a lot of effort. She's willing to embrace that challenge, she says, because her students "soar to new heights in these projects."
Suzie Boss, a journalist who lives in Portland, Oregon, is coauthor of Reinventing Project-Based Learning: Your Field Guide to Real-World Projects in the Digital Age. She also blogs for Edutopia.org.
Control at a Click: Web Tools for Managing Projects
In project-learning classrooms, both teachers and students need to manage the learning process. Here are some tools to help:
ThinkQuest
The Oracle Education Foundation recently updated its ThinkQuest learning platform, which is available at no charge to elementary schools and secondary schools around the world. It includes an online environment where teachers and students can collaborate, a competition space where students participate in technology contests, the ThinkQuest project library, and a professional-development program for educators.
Project Foundry
Project Foundry is an online tool for managing the entire project process, from planning through assessment. Used for a fee by 70 schools, it includes standards-based templates for project planning as well as time logs, journals, communications features, feedback loops, assessment tools, and student portfolios. "We couldn't survive without it," says Paul Tweed, a founder of the Wildlands School, a small charter school in Augusta, Wisconsin, that focuses on scientific inquiry.
Personalized Web Pages
Students or teachers can set up personalized Web pages (sometimes called start pages) to keep various project tasks all in one place. Start pages such as iGoogle allow users to add widgets for accessing Web mail, calendars, links, shared documents (such as those from Google Docs), or news feeds. -- SB